Bible Question:
Why is Rahab praised as an example of faith after she lied?
Bible Answer:
A common and troublesome question among Christians is why does Scripture praise Rahab as a woman of faith when she protected two Jewish spies (Joshua 2:4-5). The following will address this question.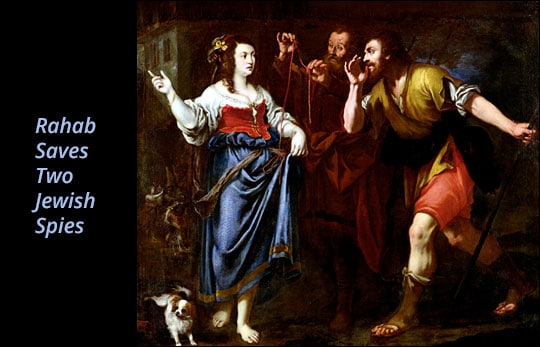 Rahab Lied To Protect The Jewish Spies
Joshua 2 reports that Joshua sent two men to spy out the city of Jericho in preparation for defeating the city. When the two men arrived in Jericho, they stayed with a woman named Rahab who protected the two men. Joshua 2:1-7 reveals that she lied in order to protect them.
Then Joshua the son of Nun sent two men as spies secretly from  Shittim, saying, "Go, view the land, especially Jericho." So they went and came into the house of  a harlot whose name was Rahab, and  lodged there. It was told the king of Jericho, saying, "Behold, men from the sons of Israel have come here tonight to search out the land." And the king of Jericho sent word to Rahab, saying, "Bring out the men who have come to you, who have entered your house, for they have come to search out all the land." But the  woman had taken the two men and hidden them, and she said, "Yes, the men came to me, but I did not know where they were from. It came about when it was time to shut the gate at dark, that the men went out; I do not know where the men went. Pursue them quickly, for you will overtake them." But she had brought them up to the roof and hidden them in the stalks of flax which she had laid in order on the roof. So the men pursued them on the road to the Jordan to the fords; and as soon as those who were pursuing them had gone out, they shut the gate.  Joshua 2:1-7 (NASB)
The message of Joshua 2:1-7 is simple. Rahab lied to protect the two spies.
Rahab Is Praised As A Woman Of Faith
Hebrews 11 is called the chapter of faith because many Old Testament saints are listed as stellar examples of faith. Then in Hebrews 11:31 Rahab is given as another example of faith.
By faith Rahab the harlot did not perish along with those who were disobedient, after she had welcomed the spies in peace. Hebrews 11:31 (NASB)
Notice why Rahab is an example of faith. She risked her life by disobeying the king of Jericho. In James 2:25 she was praised for providing safety to the spies.
 In the same way, was not Rahab the harlot also justified by works when she received the messengers and sent them out by another way? James 2:25 (NASB)
Why was she an example of faith? Joshua 2:8-11 answers the question. In this passage we discover that because she believed that Jehovah God is the "God, in heaven above and on earth beneath" Rahab disobeyed the king and hid the two spies. She was willing to do that because they served God whom she recognized and respected as the true God.
 Now before they lay down, she came up to them on the roof, and said to the men, "I know that the LORD has given you the land, and that the terror of you has fallen on us, and that all the inhabitants of the land have melted away before you. For we have heard how the LORD dried up the water of the Red Sea before you when you came out of Egypt, and what you did to the two kings of the Amorites who were beyond the Jordan, to Sihon and Og, whom you utterly destroyed. When we heard it, our hearts melted and no courage remained in any man any longer because of you; for the LORD your God, He is God in heaven above and on earth beneath." Joshua 2:8-11 (NASB)
Her actions proved the genuineness of her faith when she welcomed the two men and hid the two spies. She did not turn them in but rescued them.
Conclusion:
Why was Rahab praised as a woman of faith? Because she believed that the God of the two spies was the true God and in response disobeyed the king of Jericho. Her actions proved her faith. But she was not praised for lying which was a sin. Her lie was a sin. Numbers 23:19 reminds us that God does not lie. It is important to remember that Scripture teaches that all lying and deception is a sin (Proverbs 30:8).
Keep deception and lies far from me . . . Proverbs 30:8 (NASB)
We hope that you have discovered that God saved Rahab because of her faith in Him and not her works. God saved this prostitute not because she was a prostitute but because of her faith in Him. God forgave her past sins and gave her eternal life. You can discover how to be saved too and go to heaven by reading Searching For God and responding in faith to Christ.
Suggested Links:
Behavior of Faith – It Does The Word
Recognizing Biblical Faith – Ingredient 2
Characteristics of Biblical Faith
Searching for God
Should a Christian sin to accomplish a good purpose?
Should a Christian support a non-Christian in an evil activity?