Bible Question:
Should a Christian sin to accomplish a good purpose?
Bible Answer:
Some people believe that white lies are good. The idea is that a white lie is a lie or deception that is supposedly justified because it accomplishes good. Joshua 2:4 tells us about Rahab, a prostitute, who lied to protect the lives of two Israeli men. Since Hebrews 11 praises Rahab some Christians ask, "Is it okay to lie or sin in order to accomplish something good?" or we could rephrase the question as, "Should a Christian sin to accomplish a good purpose?"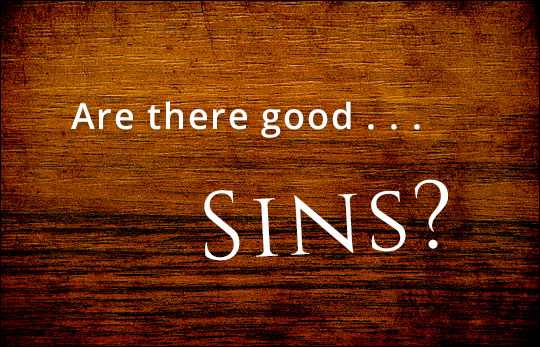 It Is Sin To Lie
Most people believe that lying is a sin. Lying is condemned throughout the Bible. In Numbers 23:19 God contrasted Himself to humans. When He did He revealed that we are liars.
God is not a man, that He should lie,
Nor a son of man, that He should repent;
Has He said, and will He not do it?
Or has He spoken, and will He not make it good? Numbers 23:19
In Titus 1:2 and Hebrews 6:18 we are reminded again that God does not and cannot lie.
Examples of lying exist throughout Scripture. The first lie or act of deception occurred in Genesis 3:1 when Satan said to Eve, "Indeed, has God said, 'You shall not eat from  any tree of the garden'?"  The truth was God had warned them to not eat from only one tree, the Tree of the Knowledge of Good and Evil." 1 Timothy 2:14 reports that Eve was deceived. This demonstrates that lying is an act of deception. Christ never practiced deception  (1 Peter 2:20-22).
1 Samuel 15:10-23 records that King Saul lied to God and lost his kingship. In 1 Kings 13:11-26 we are told that a man of God lied to an old prophet (v. 18). Verse 24-26 reports that God allowed a lion to kill the man of God because of his lie.
Our final example of lying in Acts 5:1-4 where Ananias and his wife, Sapphira, lied and died, as a result.
The motivating reason for every Christian to not lie, or we could say to not practice deception, is found in 1 Peter 1:16. This passage urges Christians to be holy. That includes lying.
As obedient children, do not be conformed to the former lusts which were yours in your ignorance, but like the Holy One who called you, be holy yourselves also in all your behavior; because it is written, "YOU SHALL BE HOLY, FOR I AM HOLY." 1 Peter 1:14-16 (NASB)
It Is Sin To Deceive
Since Rahab lied in Joshua 2:4 in order to protect two Israeli spies from the king of the city of Jericho, many believe that she did a good thing. But Scripture never approves her conduct. Yes, Hebrews 11:31 praises her as an example of faith, but her lie is not praised.
The truth is she should have told the king that the men were in her home and then trust God to protect them. Yes, she believed in Jehovah God, but she did not trust Him for the protection of the two men.
One of the great examples of not lying and trusting God is the time when Shadrach, Meshach and Abed-nego refused to answer King Nebuchadnezzar. The king wanted to know if they had refused to worship his golden statue. Here is the reply of the three men.
Shadrach, Meshach and Abed-nego replied to the king, "O Nebuchadnezzar, we do not need to give you an answer concerning this matter. If it be so, our God whom we serve is able to deliver us from the furnace of blazing fire; and He will deliver us out of your hand, O king. But even if He does not, let it be known to you, O king, that we are not going to serve your gods or worship the golden image that you have set up." Daniel 3:16-18
Their answer gives every Christian the perfect example of how to respond with a death and life situation. Either tell the truth or refuse to answer and then trust God.
Conclusion:
The ultimate test of faith is to trust God in life and death situations. Jesus has told us . . .
Do not fear those who kill the body but are unable to kill the soul; but rather fear Him who is able to destroy both soul and body in hell. Matthew 10:28 (NASB)
We must not lie. We must not sin in any way, even when we are in life and death situations. The God-honoring situation is to not sin and by faith trust God. If it is God's desire, He can rescue you and others. Romans 1:17 says that Christians are to walk by faith. Anything less is a sin.
For in it the righteousness of God is revealed from faith to faith; as it is written, "BUT THE RIGHTEOUS man SHALL LIVE BY FAITH." Romans 1:17 (NASB)
To lie or to commit any sin to "accomplish some good" is an act of two sins: lying and a failure to trust God. If we deserve to suffer for some sin, then it is God's act of justice (1 Peter 4:15-19).
Suggested Links:
Why Do Christians Suffer? – part 1
Why Do Christians Suffer? – part 2
Why Do Christians Suffer? – part 3
Why is Rahab praised as an example of faith after she lied.
The Fall and Its Tragedy, part 1 - message
The Fall and Its Tragedy, part2 - message
Should a Christian support a non-Christian in an evil activity?