Bible Question:
Why does Luke 4:1-13 not mention angels caring for Jesus during His temptations but Matthew 4:1-11 & Mark 1:12-13 do?
Bible Answer:
The gospels of Matthew 4:1-11, Mark 1:12-13 and Luke 4:1-13 tell us that Jesus was tempted by the tempter (Matthew 4:3) or Satan (Mark 1:13), who is also called the devil (Luke 4:3). Jesus was tempted three different times. At the end of the temptation, the gospel of Matthew says the devil left Jesus and then angels ministered to Him (Matthew 4:11). In Mark 1:13 we are told that angels ministered to Jesus, but Luke 4:13 does not record the angels ministering to Him after the devil "had finished every temptation." The question we are concerned with is, "Why does Luke 4:13 not say angels cared for Jesus when Mark 1:13 does?"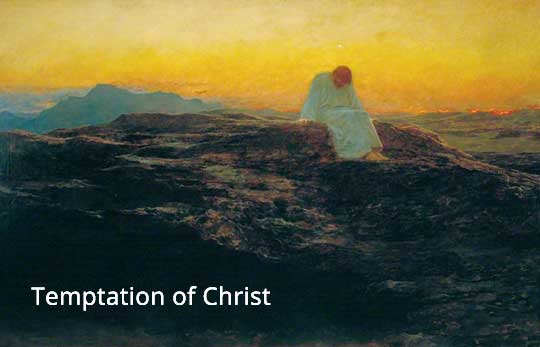 Each Gospel Has A Different Purpose
First, it is important to understand that each of the four gospels in the New Testament documents a slightly different set of events in the life of Jesus Christ. The gospels of Matthew, Mark and Luke have the greatest number of same or identical events.  The study "Introduction to the Life of Christ" reveals that 92% of the gospel of John is unique to John alone.
A casual comparison of the four gospels reveals that they differ in a number of ways. Each gospel has a different number of chapters and verses. Luke has the most verses at 1151 and Mark has the fewest at 678. Matthew emphasizes Jesus as the Christ or the Messiah. Mark emphasizes Jesus as the son of God. Luke emphasizes the humanity of Christ while John emphasizes the deity of Christ.
Each gospel has a different purpose. Therefore, they emphasize different events, miracles and healings that occurred during Jesus' life and ministry. For example, the gospel of Matthew records more of the Sermon on the Mount than the other gospels and John chose to only include seven of the miracles. Therefore, it is important to understand that each gospel writer included slightly different information when he wrote his gospel. This is not an error or a proof that the biblical records are not inspired by the Holy Spirit. In fact, if the gospels contained the exact same wording for every miracle, healing, wonder and event, the critics would claim that the authors coordinated their writings or copied from one another. Unfortunately, unbelief will always look for reasons to reject the truth.  Luke 1:1-4 and John 20:30-31 give us insight as to why  those two gospels were written.
Therefore many other signs Jesus also performed in the presence of the disciples, which are not written in this book; but these have been written so that you may believe that Jesus is the Christ, the Son of God; and that believing you may have life in His name. John 20:30-31 (NASB)
It is obvious that Matthew and Mark were written for a purpose also.
Luke 4:13 Ignores the Angels
Now we are ready to ask why did Luke not record that angels ministered to Jesus at the end of the temptations? The following three verses are the last in the account recorded by Matthew, Mark and Luke of Jesus' temptation in the wilderness for forty days and nights.
Then the devil left Him; and behold, angels came and began to minister to Him. Matthew 4:11 (NASB)
And He was in the wilderness forty days being tempted by Satan; and He was with the wild beasts, and the angels were ministering to Him. Mark 1:13 (NASB)
When the devil had finished every temptation, he left Him until an opportune time. Luke 4:13 (NASB)
It is immediately obvious as we have pointed out already that one gospel writer refers to the devil and another refers to him as Satan. Only Mark says that there were wild beasts with Jesus, and Mark is the only gospel that does not comment that Satan left Jesus. Why? Maybe he did not think it was important since telling us, "the angels were ministering to Him" should reveal that Satan had left Him. Why did Luke leave out the angels and why is he the only gospel writer who included the statement  "until an opportune time"?
There is no disputed manuscript variation in Luke that would suggest a reference to angels should or should not be included.[1] Therefore, the answer is unknown. Did he not know the angels had visited Jesus at the end of the three temptations as Godet suggests?[2] The answer is no, since Dr. Luke states in the opening verses of his gospel that he searched out everything carefully.
. . . it seemed fitting for me as well, having investigated everything carefully from the beginning, to write it out for you in consecutive order, most excellent Theophilus . . . Luke 1:3 (NASB)
Therefore, we are left with guessing as to why he left out this information. Maybe he wanted a dramatic ending to the temptation by saying that the devil had left Him and would return again, implying another conflict of some type. That seems to be a reasonable conclusion.
Conclusion:
There is a principle that Christians must remember and non-Christians must be warned about. The Bible is written by God the Holy Spirit. In 2 Peter 1:20-21, it does not contain error since God cannot lie (Numbers 23:19; Titus 1:2). What Luke said was true. What he included and left out was directed by the Holy Spirit. In that we have full confidence and comfort. The account of Jesus' temptation by the devil is not unaffected by the inclusion or exclusion of the angels. We can thank God for His holy and inspired truth.
All Scripture is inspired by God and profitable for teaching, for reproof, for correction, for training in righteousness; so that the man of God may be adequate, equipped for every good work. 2 Timothy 3:16-17 (NASB)
References:
1. Reuben Swanson. Luke. New Testament Greek Manuscripts. William Carey International University Press. 1995. p. 66.
2. F. Godet. The Gospel of Luke. Funk & Wagnalls Co., 1887. p. 142.
Related Books
1. W. Graham Scroogie. A Guide to the Gospels. Fleming H. Revell Company. 9173.
2. Bernard Ramm. Protestant Biblical Interpretation. Baker Book House. 1970.
Suggested Links:
Life of Christ – miracles, teachings and purpose
Introduction to the Life of Christ
What does it mean that the Bible is inspired? – Inspiration of Scripture
What are "liberal," "neoorthodox," and "conservative" views of inspiration?
What books belong in the Bible? – Canon of Scripture
Temptation of Jesus