Bible Question:
What is the meaning of Jesus in the Bible?
Bible Answer:
"Jesus" is the biblical name of the Son of God, who is often called Jesus Christ. "Jesus" comes from the Greek word Iesous. It occurs 987 times in the New Testament. It occurs in every book of the New Testament, except for 3 John. The Hebrew version of the name is Yēšua.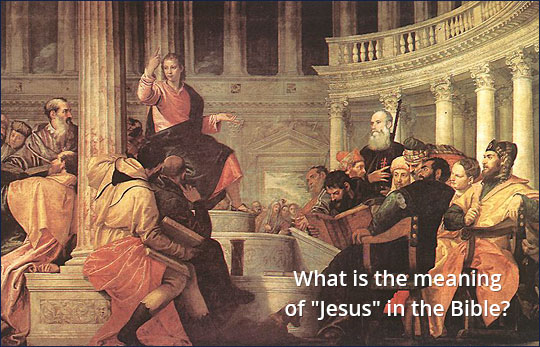 The meaning of the name "Jesus" is given to us in Matthew 1:21 by the angel who spoke to Mary's husband, Joseph in a dream.
She will bear a Son; and you shall call His name Jesus, for He will save His people from their sins. Matthew 1:21 (NASB)
That is, Jesus means "Savior" for He will save His people from their sins. Notice that He does not save them from poverty, a bad marriage, a difficult employer or an unloving and disobedient child. He saves us from our sins and John 3:16 tells us when He does this.
For God so loved the world, that He gave His only begotten Son, that whoever believes in Him shall not perish, but have eternal life. John 3:16 (NASB)
In John 1:29 we are once again reminded that Jesus came to save us from our sins.
The next day he saw Jesus coming to him and said, "Behold, the Lamb of God who takes away the sin of the world!" John 1:29 (NASB)
In only three New Testament passages is Iesous translated differently as Joshua (Luke 3:29; Acts 7:45 and Hebrews 4:8).
Conclusion:
If you are not a Christian, discover how Jesus can be your Savior and rescue you from your sins and an eternity in hell.
Suggested Links:
What is the meaning of Christ in the Bible?
What is the difference in meaning between Jesus Christ and Christ Jesus?
What are the names of God?
What does the name El Shaddai mean?
Jesus Is the Great I Am