Bible Question:
One of God's names is El Shaddai. Where is it found in the Bible?
Bible Answer:
El Shaddai is one of the names used for God. It is a Hebrew name for God and it occurs only eight times in the Old Testament.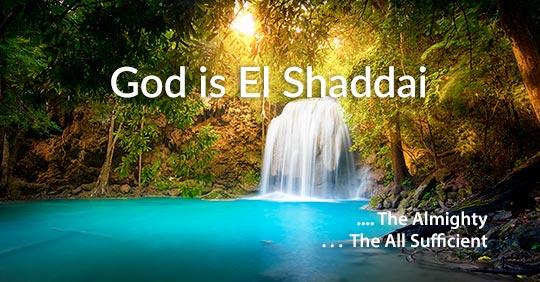 El Shaddai
El Shaddai means "The Almighty, all-sufficient God." Sometimes the name is also simply Shaddai. This means "The Almighty." El Shaddai first appears in Genesis 17:1.
When Abram was ninety-nine years old, the LORD appeared to Abram and said to him, "I am Almighty God; walk before Me and be blameless. (NASB) Genesis 17:1
Both forms of the name for God appear forty-eight times in the Old Testament. Here are the passages: Genesis 17:1; 28:3; 35:11; 43:14; 48:3; 49:25; Exodus 6:3; Numbers 24:4; 24:16; Ruth 1:20, 21; Job 5;17; 6:4, 14; 8:3, 5; 11:7; 13:3; 15:25; 21:15, 20; 22:3, 17, 23, 26; 23:16; 24:1; 27:2, 10, 11, 13; 29:5; 31:2, 35; 32:8; 33:4; 34:10, 12; 35:13; 37:23; 40:2; Psalms 68:14; 91:1; Isaiah 13:6; and Joel 1:15.
Meaning To Us
This is a wonderful name for us to remember because it reminds us of the fact that God is all-sufficient to care for us and powerful enough to be able to do it. God could have been powerful but not in every area of our life. Or, He could have been able to meet our needs in every area of our life but only to a degree. God can minister to every area of your life whether physical, spiritual, emotional, or intellectual and He can do it completely. He is completely capable and powerful.
Conclusion:
Here is a wonderful quote from Charles Haddon Spurgeon
"Fear not! I will help you." Fear not! If there were an ant at the door of your granary, asking for help, it would not ruin you to give him a grain of your wheat; and you are nothing but a tiny insect at the door of My all-sufficiency. I will help you.
Suggested Links:
What are the names of God?