Bible Question:
How can I find peace? I have had three unhappy marriages. First Marriage - I married a Christian for convenience not conviction. I was deeply unhappy and my mental health was so dangerous that I was a risk to others. Therefore, I left and committed an unbiblical divorce. Second Marriage - I met someone who was a Christian and married her. Her mental health was so poor she became a risk. Third Marriage - I now am in a relationship and deeply guilty and unhappy. What does the Bible say? How can I find healing? Should I leave this wife, pursue a single life or marry a new partner?
Bible Answer:
It is common today for people to have been married three times, four times or even seven times, if not more. What should a person do who has had three disappointing marriages, violated God's commands and is now miserable? Should the individual divorce the third spouse and remarry or just live as a single?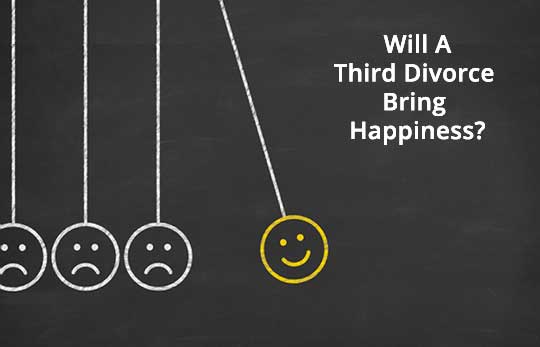 When Divorce Is Allowed
God has told us that we cannot divorce a wife or husband, except for two reasons. The first reason for which God allows divorce is when a spouse has committed immorality. Jesus gave the command in Matthew 5:31-32.
"It was also said, 'Whoever divorces his wife, let him give her a certificate of divorce.' But I say to you that everyone who divorces his wife, except on the ground of sexual immorality, makes her commit adultery, and whoever marries a divorced woman commits adultery." Matthew 5:31-32 (ESV)
The Greek for immorality is porneia. The word refers to a wide range of sexual sins: adultery, homosexual activity, incest and beastiality. That is, if a person commits one of these sins, their spouse can file for divorce.
The apostle gives us the second basis for divorce which occurs when an unbelieving spouse wants to leave (1 Corinthians 7:12-16). Contrary to popular belief among Christians, God does not allow divorce for "emotional desertion." 1 Corinthians 7:12-16 allows divorce only when the unbeliever physically leaves. For more information about the two basis for divorce read, "Biblical Divorce and Remarriage." Divorce for any other reason is a violation of God's divine command and principles for happiness.  For information about how to be happy or joyful in marriage, please visit, "Marriage In Splendor – God's View."
We Reap What We Sow
Therefore, when a husband willfully divorces his wife for any other reason, he cannot expect to have God's blessing on a new marriage or on his life. The same is true for a wife who divorces her husband. God has warned us that we reap what we sow. If we disobey God, how shall we escape the consequences of our sins? Here are some verses that warn us to obey God.
The wicked earns deceptive wages,
But he who sows righteousness gets a true  reward.
Proverbs 11:18 (NASB)

Sow with a view to righteousness,
Reap in accordance with kindness;
Break up your fallow ground,
For it is time to seek the LORD
Until He comes to rain righteousness on you.
You have plowed wickedness, you have reaped injustice,
You have eaten the fruit of lies.
Because you have trusted in your way . . .
Hosea 10:12-13a (NASB)

Do not be deceived, God is not mocked; for whatever a man sows, this he will also reap. Galatians 6:7 (NASB)
Sadly, because so many couples become unhappy later in a marriage—they respond to their emotions—they disobey God rather than submit to Him. Typically, when they become unhappy after the divorce, they blame God. They failed to obey God's divine principles for a happy life. He is not responsible for our foolish decisions. As a result, we reap the rewards of our own sin. James 1:13-15 tells us that we sin when we disobey God by yielding to our emotions and violating His commands.
Research has proven that in the United States of America, 68.9% of all divorces are initiated by women.[1] Ironically, a very large research study has shown that the majority of divorced people are unhappy afterward and many would like to remarry their ex-spouse. Eighty percent of those who remained in an unhappy marriage were happily married five years later.[2] One can find stories of people who claim to be happy after a divorce but the research reveals they are the minority. "Do not be deceived, God is not mocked; for whatever a man sows, this he will also reap."
The Next Step
What is the next step if someone is in his or her third marriage and now unhappy? The answer is to obey God and do not divorce your current spouse. Why should a person compound their unhappiness with more unhappiness? Further, the root problem of our unhappiness in the vast majority of marriages is not in the circumstances but within each person.
In the following verses God commands us to be joyful. In fact, it is God's will that we choose to be joyful.
Rejoice in the Lord always; again I will say, rejoice! Philippians 4:4 (NASB)

Rejoice always; pray without ceasing; in everything give thanks; for this is God's will for you in Christ Jesus. 1 Thessalonians 5:16-18 (NASB)

Consider it all joy, my brethren, when you encounter various trials . . . James 1:2 (NASB)
In the last verse we are told that when we have a difficult trial, we are to choose to "consider it" joy. If we follow God's will, better days are coming!
Almost every divorce could be avoided if the individuals followed God's divine principles. Most divorces are emotional decisions and not logical ones. God made us and He knows what makes a great marriage. But frequently, we are selfish and proud individuals who insist on the other person changing to please us. A person once said that others need to accept her the way she was. That was not a statement of humility. In our struggle with our emotional turmoil, we ignore God's warning, "Do not be deceived, God is not mocked; for whatever a man sows, this he will also reap."
What is the next step? If you are a Christian, confess your sins of divorce, self-centeredness, pride and disobedience to Him. Tell God that you want to obey Him and then remain with your current spouse. Are you attending church? Are you praying daily? Are you reading the Bible daily for at least 30 minutes? Do you love God? Do you desire to obey God? If not, then you should be concerned that you may not be a Christian. If you are not sure you are a Christian, please read, "Searching For God." Happiness does not come by disobeying God!
Conclusion:
Happiness is found in obedience to God. There is a hymn called, "Trust and Obey." Here are some of the lyrics of the song that we should remember.
Trust and Obey
   John H. Sammis
When we walk with the Lord in the light of His Word,
What a glory He sheds on our way!
While we do His good will, He abides with us still,
And with all who will trust and obey.
Refrain:
Trust and obey, for there's no other way
To be happy in Jesus, but to trust and obey.
Related Article:
New Study: 50 Percent Of Divorced People Wish They Had Never Ended Their Marriage.
References:
1. Gad Saad. "Do Men or Women File for Divorce More Often?" Psychology Today. November 14, 2013.
2. New Study: 50 Percent Of Divorced People Wish They Had Never Ended Their Marriage
Suggested Links:
Porneia Definition — What is the meaning of the Greek word porneia in the Bible?
Did porn or pornography come from the Greek word porneia?
What is the correct meaning of fornication in the Bible?
Biblical Divorce and Remarriage
If you are divorced and remarry, are you living in adultery?
Marriage In Splendor - God's View
Searching For God
Should I divorce my second spouse to end my adultery?
Is it possible to remarry and have a happy marriage?