Bible Question:
Is it right to display a nativity scene at Christmas? Isaiah 42:8 says, "I am the Lord, that is My name; I will not give My glory to another, nor My praise to graven images." Isn't a nativity scene going against that?
Bible Answer:
Does Isaiah 42:8 teach that Nativity scenes  and other Christmas decorations are prohibited? That is, does Isaiah 42:8 reveal they are graven images? To answer the question we must determine both the meaning of the context of the passage.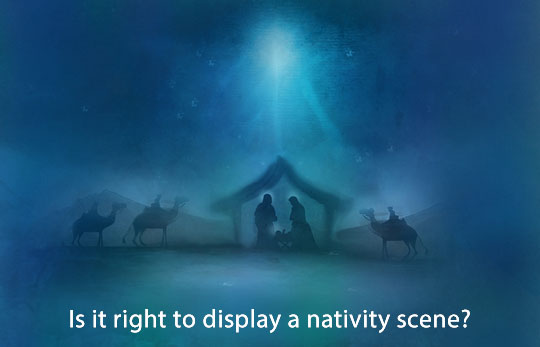 Meaning of Isaiah 42:8
In Isaiah 42:5-9 God declares that He is the Creator of the heavens and the earth. The context of the passage in which these verses occur is important when answering the question. Here is Isaiah 42:5-9.
Thus says God the LORD,
Who created the heavens and stretched them out,
Who spread out the earth and its offspring,
Who gives breath to the people on it
And spirit to those who walk in it,
I am the LORD, I have called You in righteousness,
I will also hold You by the hand and watch over You,
And I will appoint You as a covenant to the people,
As a light to the nations,
To open blind eyes,
To bring out prisoners from the dungeon
And those who dwell in darkness from the prison.
I am the LORD, that is My name;
I will not give My glory to another,
Nor My praise to graven images.
Behold, the former things have come to pass,
Now I declare new things;
Before they spring forth I proclaim them to you.
Isaiah 42:5-9  (NASB)
There Is Only One God and Many Idols
These verses are part of a long section in which God teaches us that there are no other gods but Jehovah God. This long section starts with Isaiah 40 and continues through Isaiah 48. An important opening verse states there is a God.
. . . Say to the cities of Judah, "Here is your God!"  Isaiah 40:9  (NASB)
Then the prophet Isaiah presents encouraging words of truth. We are told that there is no other god but the God of the Bible. Here are a few of the statements that God made through this prophet.
For I am the LORD your God, The Holy One of Israel, your Savior; I have given Egypt as your ransom, Cush and Seba in your place.  Isaiah 43:3 (NASB)

I, even I, am the LORD; And there is no savior besides Me. Isaiah 43:11 (NASB)

. . . I am the first and I am the last, And there is no God besides Me. Isaiah 44:6 (NASB)

. . .Is there any God besides Me, Or is there any other Rock? I know of none. Isaiah 44:8 (NASB)

I am the LORD, and there is no other; Besides Me there is no God. I will gird you, though you have not known Me; That men may know from the rising to the setting of the sun That there is no one besides Me. I am the LORD, and there is no other . . . Isaiah 45:5-6 (NASB)
The message is that there is only one God. There is no other.
In sharp contrast in the middle of this long section, God reminds us of the gods we worship. We worship many different idols made of wood, plastic and metal. In the following passage God describes idols that are made of wood or stone! We could add metal, glass, fabric or plastic. The idol is created and the individual falls down and worships it.
The man shapes iron into a cutting tool, and does his work over the coals, fashioning it with hammers, and working it with his strong arm. He also gets hungry and his strength fails; he drinks no water and becomes weary. Another shapes wood, he extends a measuring line; he outlines it with red chalk. He works it with planes, and outlines it with a compass, and makes it like the form of a man, like the beauty of man, so that it may sit in a house. Surely he cuts cedars for himself, and takes a cypress or an oak, and raises it for himself among the trees of the forest. He plants a fir, and the rain makes it grow. Then it becomes something for a man to burn, so he takes one of them and warms himself; he also makes a fire to bake bread. He also makes a god and worships it; he makes it a graven image, and falls down before it. Half of it he burns in the fire; over this half he eats meat as he roasts a roast, and is satisfied. He also warms himself and says, "Aha! I am warm, I have seen the fire." But the rest of it he makes into a god, his graven image. He falls down before it and worships; he also prays to it and says, "Deliver me, for thou art my god." . . . he cannot deliver himself, nor say, "Is there not a lie in my right hand?" Isaiah 44:12-20 (NASB)
We give our time, money and effort to earn or buy cars, money, houses, televisions, radios, mobile phones, jewelry, clothes, and many other items made of wood, plastic, hay, metal, and clay. Many worship their job, wealth, fame or family. Isaiah 42:8 captures the message of this long section that we must not worship anything or anyone, except the only true God, Jehovah God.
Are Nativity Scenes Idols?
Therefore, is it wrong to have a nativity scene or a tree in our homes temporarily or in the church? Some have claimed that Exodus 20:2-6  and Leviticus 26:1 prohibit a nativity scene, tree, candy canes, Christmas songs and even the remembrance of Christ's birth! But a close look at Leviticus 26:1 reveals that there is an important phrase near the end of the verse. It is "to bow down to it." The phrase refers to the purpose for making for making the idol, image, sacred pillar or figure of stone.
You shall not make for yourselves idols, nor shall you set up for yourselves an image or a sacred pillar, nor shall you place a figured stone in your land to bow down to it; for I am the LORD your God. Leviticus 26:1 (NASB)
Exodus 20:2-6 also prohibits making an idol or graven image. But notice that the purpose for making these items is to worship them.
You shall have no other gods before Me. You shall not make for yourself an idol, or any likeness of what is in heaven above or on the earth beneath or in the water under the earth. You shall not worship them or serve them; for I, the LORD your God, am a jealous God, visiting the iniquity of the fathers on the children, on the third and the fourth generations of those who hate Me, but showing lovingkindness to thousands, to those who love Me and keep My commandments. Exodus 20:2-6 (NASB)
The truth is that some Christians worship their clothes, jewelry, television, R-rated movies, automobiles, children, friendships and sex. What do you worship? If something consumes more of your time and devotion than God does, then you have a "graven image" or an idol in your life. Notice how Colossians 3:5 defines  an idol.
Therefore consider the members of your earthly body as dead to immorality, impurity, passion, evil desire, and greed, which amounts to idolatry. Colossians 3:5 (NASB)
What is your idol? The answer is found in your attitude and not the object itself. If clothes is your idol, should you stop wearing clothes? No! Instead, you confess your preoccupation with your wardrobe as sin, and turn your attention and focus in life to living for God and furthering His kingdom.
If you worship the Christmas decorations, then they are wrong for you. If they are only a reminder of God's great love for us and that Jesus was willing to become like us so that He could die for our sins, then there is nothing wrong with them. The Old Testament only prohibited the worship of these things.
Conclusion:
What is an idol for you may not be for another person. God wants us to be consumed with Him and nothing else. He wants us to love and seek Him with ALL our hearts.
And He said to him, "'YOU SHALL LOVE THE LORD YOUR GOD WITH ALL YOUR HEART, AND WITH ALL YOUR SOUL, AND WITH ALL YOUR MIND.' This is the great and foremost commandment." Matthew 22:37-38 (NASB)
Suggested Links:
Searching For God
Christmas Story - Biblical Accounts
Was Jesus born on December 25?
Is Isaiah 7:14-16 a prophecy about Jesus Christ?
What does Immanuel mean?
What does the name Yeshua mean?
Jesus Is Born In Bethlehem
Messiah – Prince of Peace