Bible Question:
Will Christians be greater than angels in the future?
Bible Answer:
There is great interest among Christians and non-Christians about angels. Since angels are part of the invisible world (Colossians 1:16), we cannot see them or knowingly speak with them. However, Hebrews 13:2 says that it is possible to unknowingly entertain angels. Therefore, we can thank God that He has revealed much about angels in the pages of Scripture. It is important to remember that there are two types of "Angels – Good and Evil." The main difference between these two groups is that one group is holy and the other is evil.  A series of links is provided at the end of the study about angels that should be helpful for those desiring to know more. In this Q&A the question that we answer is, "Will Christians be greater than angels in heaven?"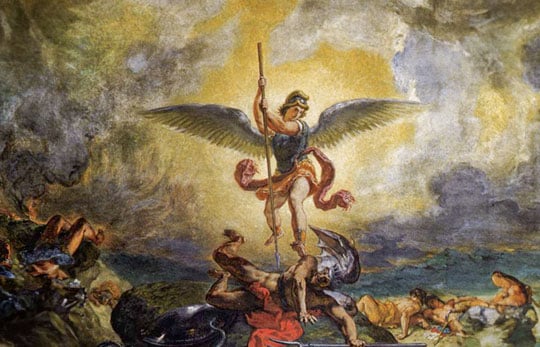 People Are Lower Than The Angels
In Hebrews 2:6-9, we are told that when the second person of the Godhead took on human flesh and became the Son of Man, whom we call Jesus Christ, He was lower than the angels. That is, while He existed in human flesh, He was lower than the angels.
But one has testified somewhere, saying,
WHAT IS MAN, THAT YOU REMEMBER HIM?
OR THE SON OF MAN, THAT YOU ARE CONCERNED ABOUT HIM?

YOU HAVE MADE HIM FOR A LITTLE WHILE LOWER THAN THE ANGELS;
YOU HAVE CROWNED HIM WITH GLORY AND HONOR,
AND HAVE APPOINTED HIM OVER THE WORKS OF YOUR HANDS;
YOU HAVE PUT ALL THINGS IN SUBJECTION UNDER HIS FEET."

For in subjecting all things to him, He left nothing that is not subject to him. But now we do not yet see all things subjected to him.

But we do see Him who was made for a little while lower than the angels, namely, Jesus, because of the suffering of death crowned with glory and honor, so that by the grace of God He might taste death for everyone. Hebrews 2:6-9 (NASB)
We discover the same message in 2 Peter 2:11 when the apostle Peter speaks of false teachers who think that they are superior to angels. Peter warns Christians to not revile angels. In this verse we are told that angels have greater abilities and power.
Daring, self-willed, they do not tremble when they revile angelic majesties, whereas angels who are greater in might and power do not bring a reviling judgment against them before the Lord. 2 Peter 2:10-11 (NASB)
Angels are superior to humans! This means that every man, woman and child are not just inherently lower than both the holy and evil angels, but they are vastly inferior in what they can do.
Does Luke 20:36 Say That People Are Equal To Angels?
The King James Version Bible (KJV) and all other major Bible versions translate the Greek text similarly.
Neither can they die any more: for they are equal unto the angels; and are the children of God, being the children of the resurrection. Luke‬ ‭20:36‬ (‭KJV)‬‬
It is agreed that Luke 20:36 says either humans are equal to angels or like angels. The Greek word that is translated as equal to angels or like angels is isangelos. It is a compound word of two words meaning "like" or "equal to" and "angels." Thus a study of the meaning of the Greek word isangelos will not help us understand the verse.
Consequently, we must look at the context of the verse. The two verses before verse 36 reveal that Jesus was talking about heaven in verses 34 and 35. That is, in heaven men and women will not be married. Men will not have wives and women will not be married to husbands. Instead, Christians will be like the angels or equal to the angels. They will just be like the angels.
Jesus told them, "The sons of this age marry and are given in marriage. But those who are counted worthy to take part in that age and in the resurrection from the dead neither marry nor are given in marriage." Luke 20:34-35 (NASB)
Therefore, the correct understanding of Luke 20:36 is that Christians will be equal to or like the angels in the sense that they will not be married in heaven.
Christians Will Be Higher Than The Angels
1 Corinthians 6:3 reveals that in the millennial kingdom (1,000 year kingdom), Christians will have a higher rank than angels since they will judge angels.
Do you not know that we will judge angels? How much more matters of this life?  1 Corinthians 6:3  (NASB)
The saints of the ages will judge the angels. But this does not mean that Christians will have greater might, power and other capabilities than angels have. Further Hebrews 1:14 does not reveal that Christians are superior to angels. It only states that the angels minister to Christians. If those who serve others are inferior to the ones who are being served, then Christ would be inferior to every Christian because Christ said,
. . . the Son of Man did not come to be served, but to serve, and to give His life a ransom for many. Matthew 20:28 (NASB)
Which angels will Christians judge? The answer is not the holy angels. The answer must be that Christians will judge the evil angels who joined Satan in rebellion as described in Isaiah 14:12-15; Ezekiel 28:12-18; Luke 10:18 and Revelation 12:4.
Conclusion:
Scripture teaches that angels are superior to every human on the planet (Hebrews 2:6-9). In the millennial kingdom angels will be judged by Christians, but that does not mean angels will be inferior to Christians in power and capability. In heaven Christians will be superior in rank since they are adopted into the family of God.
Suggested Links:
Angels – Good and Evil
Are there female angels?
Are we equal, lower, or higher than the angels?
Where do the scriptures teach that angels are not given in marriage?
Do angels have a will?
Invisible Angelic Powers
Are human beings the highest part of God's creation?