Bible Question:
What is the real meaning of Christmas?
Bible Answer:
What is the real meaning of Christmas? The answer is that Christmas is not about family or boyfriends and girlfriends. Christmas is not about wine, apple cider, eggnog, fruitcake, pies, turkey, or Christmas goodies. Christmas is not about gifts! The real meaning of Christmas is also not about love! The real meaning of Christmas was given by an angel to some shepherds on a night long ago that we now call Christmas.
In Luke 2:8-9 we are told that shepherds were outside in the fields watching their sheep in the night air when an angel stood before them on the ground.  The angel made an incredible announcement about a baby that had been born.
But the angel said to them, "Do not be afraid; for behold, I bring you good news of great joy which will be for all the people; for today in the city of David there has been born for you a Savior, who is Christ the Lord. Luke 2:10-11 (NASB)
The angel's announcement reveals the meaning of Christmas. Notice that the angel does not announce that God loves us or that God promises peace to the world. The purpose of the angel's announcement was not that a baby had been born. Babies are born all the time!  There is nothing unusual about the birth of babies.
The real meaning of Christmas is about Who was born. First, the angel said that the one who was born is a Savior. Earlier an angel had told Joseph that this baby would save us from our sins.
And she shall bring forth a son, and thou shalt call his name Jesus, for he shall save his people from their sins. Matthew 1:21 (NASB)
That explains in what sense the baby was a Savior.
Second, the angel said that the baby was Christ the Lord. The title Christ the Lord refers to the Messiah promised by the ancient prophets. The prophet Micah had announced about 700 B.C. that a baby would be born in Bethlehem, which was also called the city of David.
But as for you, Bethlehem Ephrathah,
Too little to be among the clans of Judah,
From you One will go forth for Me to be ruler in Israel.
His goings forth are from long ago,
From the days of eternity." Micah 5:2 (NASB)
Notice the prophecy says that the baby would be "from long ago" and "from the days of eternity." That is, the baby would be from ancient days and from eternity past. The baby that was born on that Christmas night had already been existing from eternity past. He was eternal. That is, Christ was and is God.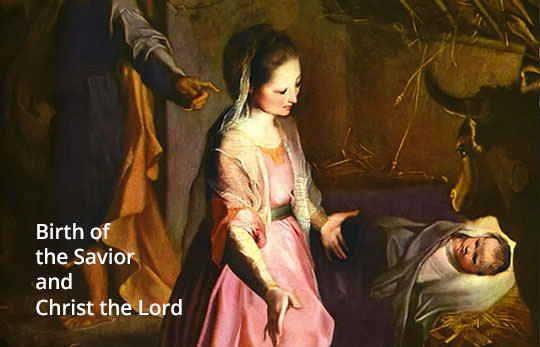 What is the meaning of Christmas? God became a human baby so that He could become the Savior of the world and His name is Jesus Christ. The Bible teaches that in order to become the Savior of the world, He had to die in our place. As a result, Christ made it possible for us to escape eternal judgment by having our sins forgiven.
. . . at the right time Christ died for the ungodly. For one will hardly die for a righteous man; though perhaps for the good man someone would dare even to die. But God demonstrates His own love toward us, in that while we were yet sinners, Christ died for us. Much more then, having now been justified by His blood, we shall be saved from the wrath of God through Him. For if while we were enemies we were reconciled to God through the death of His Son, much more, having been reconciled, we shall be saved by His life. Romans 5:6-11 (NASB)
Why did Christ die for us? The answer is that He loves us. He died for us when we were His enemy. We can have our sins forgiven and live with Him eternally by believing He is our God and that He is our Savior.
For God so loved the world, that He gave His only begotten Son, that whoever believes in Him shall not perish, but have eternal life. John 3:16 (NASB)
If you are not a Christian and would like to understand how Jesus can be your Savior making it possible for your to one day live in heaven with Him, we encourage you to read "Searching For God."
Suggested Links:
Searching for God
Must a person repent in order to go to heaven?
I want to seek God; how do I seek God?
Do I have to believe that Jesus is God to be saved?
What does it mean to receive Christ?
Jesus Is Born In Bethlehem
The Gift – The Son of God