Bible Question:
If God's model of forgiveness is what we should strive for, does that mean the person must ask for forgiveness? Our sins are forgiven if we repent and trust in Jesus. If everyone was forgiven, then everyone would be going to heaven.
Bible Answer:
Some individuals believe that we should not forgive others until they apologize and ask for forgiveness. They say that is how God forgives us. They quote Ephesians 4:32 which says,
Be kind to one another, tender-hearted, forgiving each other,  just as God in Christ also has forgiven  you. Ephesians 4:32 (NASB)
They believe this means that we should wait for an offender to apologize and ask for forgiveness before forgiveness is granted. That is, we should forgive as God forgives. The question we will answer is, "How do we forgive others as God has forgiven us?"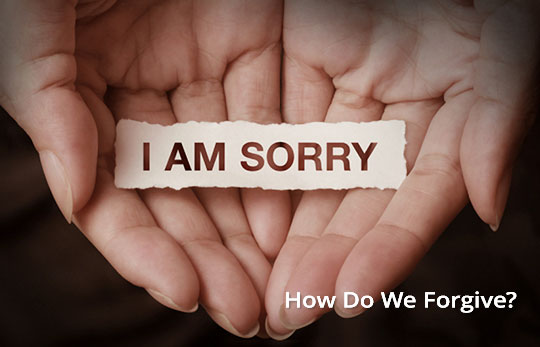 Only God Can Forgive Sins
We must start with the most obvious truth that only God can forgive our sins or remove the penalty of our sins and allow us into heaven. Romans 4:7-8 reminds us that only God can erase the record of our sins. That is the meaning of the Greek word translated as "take in account" in the verse.
BLESSED ARE THOSE WHOSE LAWLESS DEEDS HAVE BEEN FORGIVEN,
AND WHOSE SINS HAVE BEEN COVERED.
BLESSED IS THE MAN WHOSE SIN THE LORD WILL NOT TAKE INTO ACCOUNT. Romans 4:7-8 (NASB)
Why is this true? Because in Psalm 51:4 King David confessed to God, after he had committed adultery with Bathsheba, that he had sinned against Him only. Only a violation against God's commands, statues and ordinances sentences a person to hell.
Against You, You only, I have sinned
And done what is evil in Your sight
Psalm 51:4 (NASB)
King David's point is that when we sin others will be affected by our attitude, actions and words, but the only reason our behavior is called a sin is because God calls it a sin. A sin is any violation of God's commands, statues and ordinances. We cannot sin against others since Scripture has defined sin as a violation of God's commands, statues and ordinances.
While it is true that in Matthew 18:21 Peter said someone could sin against him, Peter was referring to any action that is a sin because God has declared it a sin. That is, because it is a sin against God, Peter understood that a person's action against him was a sin. Any violation against God's standards is a sin. One such sin is enough to send us to hell. In fact, it is possible that someone may be offended by another person's action, but that does not mean it was necessarily a sin. Behaviors and actions are sin only if God declares them to be sin! We cannot create a new standard and call it "my lists of sins." The establishment of what constitutes sin is only the prerogative of God. Peter could not create his own lists of sins. The same is true for us.
Therefore, when Scripture speaks of us forgiving others, it is not teaching us to forgive sins in the sense that God forgives sins because only God can forgive sins that violate His standards. Luke 5:21 reminds us that only God truly forgives sins.
The scribes and the Pharisees began to reason, saying, "Who is this man who speaks blasphemies? Who can forgive sins, but God alone?" Luke 5:21 (NASB)
How Do We Forgive?
Next, we must ask in what sense do we forgive others? The obvious answer is that we cannot forgive as God forgives. We cannot erase the penalty of someone's sin or change their destiny because of their sin! Jesus said,
Do not fear those who kill the body but are unable to kill the soul; but rather fear Him who is able to destroy both soul and body in hell. Matthew 10:28 (NASB)
Therefore, in what sense do we forgive? The answer is found by first asking what is the meaning of "to forgive." The Greek word for "to forgive" is aphiemi. It means "to send away," "to disregard," "to let go." Therefore, forgiveness is the releasing of a sin or a violation of God's standard. That means that we can only "let go" of an offense against us that was caused by an offender. When someone violates God's standard and we are impacted,  God calls it sin and we are offended, hurt or damaged in some way.
Ephesians 4:31-32 tells us how we are to forgive others.
Let all bitterness and wrath and anger and clamor and slander be put away from you, along with all malice. Be kind to one another, tender-hearted, forgiving each other, just as God in Christ also has forgiven you. Ephesians 4:31-32 (NASB)
These two verses speak of attitude. God the Holy Spirit appeals to our attitude. We are not to be bitter. We are not to be angry or seek revenge. We are to be kind and tender-hearted. It is not describing a methodology or the steps to be followed before "forgiving" another. We are to release or excuse their offense toward us. That is how we forgive another person. We say, "I love you and I release you from the offense." 1 Corinthians 13:4-6 describes love,
Love is patient, love is kind and is not jealous; love does not brag and is not arrogant, does not act unbecomingly; it does not seek its own, is not provoked, does not take into account a wrong suffered, does not rejoice in unrighteousness, but rejoices with the truth; bears all things, believes all things, hopes all things, endures all things. Love never fails . . . 1 Corinthians 13:4-8
Notice that love does not keep a record of wrongs suffered. This verse reveals that a person who does not forgive because an offending individual has not asked for forgiveness, is in violation of the command to love others.
When Do We Forgive?
Some claim that they will not forgive or release an offending person until that person asks to be forgiven because God does not forgive us until we repent and ask for forgiveness. Therefore, we will ask, "What method does God follow before He forgives?"  The answer is that God forgives in three ways.
The first is found in Acts 10:43 where we are told when a person becomes a Christian God forgives all of their past, present and future sins (positional forgiveness). The Old Testament saints were forgiven in the same way (Romans 4:2-3).
Of Him all the prophets bear witness that through His name everyone who believes in Him receives forgiveness of sins. Acts 10:43 (NASB)
Here we are told that God forgives our sins when we believe in Jesus Christ. Repentance is also a requirement (Luke 24:47). Hebrews 10:14-18 reveals that a believer's sins are totally forgiven and he or she is declared to be righteous forever! That is why Christians are called "saints" or holy ones in Romans 1:7; 1 Corinthians 1:2; 2 Corinthians 1:1; Ephesians 1:1; Philippians 1:1 and Colossians 1:2.
The second way that God forgives is that He forgives Christians on a daily basis (relational forgiveness) since they still sin. Even though a Christian's sins have been judicially forgiven, we still sin on a daily basis. Consequently,  1 John 1:9 tells us to confess our sins. This confession restores our fellowship with our holy God. It does not affect our eternal destiny.
 If we confess our sins, He is faithful and righteous to forgive us our sins and to cleanse us from all unrighteousness. 1 John 1:9 (NASB)
Here we discover that Christians are only required to confess their sins. Confession should not be confused with the Roman Catholic concept of this word. True biblical confession means to agree. Literally, the Greek word for "confession" means "to say the same thing" or "to agree." That is, God forgives Christians when they in prayer agree with God about their sin. They say the same thing about their sin. They admit they have sinned and they name it. Penance, begging and apologies are not required. The verse simply states that a Christian only needs to admit they sinned.
The third way that God forgives is illustrated by the example of our God, Jesus Christ, while He was hanging on the cross.
But Jesus was saying,  Father, forgive them; for they do not know what they are doing." And they cast lots, dividing up His garments among themselves. Luke 23:34 (NASB)
This example of Jesus' forgiveness is very important because it reveals that the soldiers were actively gambling for His clothes. The gospels also tell us that the Pharisees were insulting Him. People were making fun of Him. The soldiers were mocking Him. They were not apologizing, repenting or seeking forgiveness and yet Jesus forgave them. Jesus forgave them before they did anything. Stephen also forgave those stoning him without them doing anything (Acts 7:60). Obviously neither Jesus nor Stephen waited for someone to repent and beg for forgiveness.
In the first two examples of forgiveness, a holy God forgives or releases an individual from the penalty that they deserve due to their sins against Him. But when Christ forgave while on the cross, in His humanity He forgave as a man. Clearly, Stephen forgave following Jesus' example. Which model should we use? The answer is that we should forgive as Jesus did while He hung on the cross. We are to forgive all offenses against ourselves unilaterally and unconditionally.
How Quickly Should We Forgive?
Humility is a major factor in forgiving others. Those who are unwilling to forgive usually struggle with pride or a lack of humility. The message of Christians is that we are to humbly forgive others unilaterally and unconditionally.
For example, in 1 Corinthians 6:1, 7 the apostle Paul rebuked the Corinthians for filing lawsuits against one another. It is important to notice that Paul told them it would be better to be defrauded than to sue each other. That is, they lacked humility. They were not humble people. Humility is the theme of most of the Sermon on the Mount. It is very obvious in Matthew 5:33-48. 1 Peter 4:8 adds that love covers a multitude of sins.
Another reason we must forgive unilaterally and unconditionally is that God warns us that He will not forgive us if we do not forgive others.
For if you forgive others for their transgressions, your heavenly Father will also forgive you. But if you do not forgive others, then your Father will not forgive your transgressions. Matthew 6:14-15 (NASB)
The most obvious reason we must forgive unilaterally and unconditionally occurs if the offending individual does not apologize for a long time or never apologizes. Then if an individual waits to forgive until repentance and an apology occurs, God will not forgive him or her for their lack of forgiveness. This is not positional forgiveness but relational forgiveness. That is, the work and ministry in the life of the Christian is hindered because the Christian withholds forgiveness!
Lastly, some refer to Matthew 18:15 where the KJV Bible says we are to confront every brother who sins against us.
Moreover if thy brother shall trespass against thee, go and tell him his fault between thee and him alone: if he shall hear thee, thou hast gained thy brother. Matthew 18:15 (KJV)
There are several problems with this verse. First, the phrase "Moreover if thy brother shall trespass against thee" is not in the best manuscripts and should be removed from this verse and it has in more recent Bible translations. Second, imagine how many people you would have to confront for every sinful offense you experience. Imagine how many confrontations a Christian would be involved in for even the petty sins.
Finally, how can we avoid bitterness if we are unwilling to forgive others (Ephesians 4:31-32)?
Conclusion:
How do we forgive others as God has forgiven us? We release the offending individual from the offense that we feel. We cannot forgive sin because only God forgives sins. Ephesians 4:32 refers to an attitude of humbly forgiving others. It does not refer to a method or a process.
Is there someone or persons whom you are unwilling to forgive? If so, remember Jesus' command in Matthew 5:43-46 to love others, including your enemy! Doesn't that include forgiving your enemy who might rather hurt you or even kill you than apologize to you?
"You have heard that it was said, 'You shall love your neighbor and hate your enemy.' But I say to you, Love your enemies and pray for those who persecute you, so that you may be sons of your Father who is in heaven. For he makes his sun rise on the evil and on the good, and sends rain on the just and on the unjust. For if you love those who love you, what reward do you have? Do not even the tax collectors do the same?" Matthew 5:43-46 (NASB)
Do you struggle with forgiving others? Then confess your sin of not forgiving others and ask God to help you forgive them. If negative memories of the offense return, confess it again and ask God to fill your heart with love for the individual.  That is how to find victory (1 Corinthians 10:13).
Suggested Links:
Pursuing Holiness - Forgiving & Offending
Is there a sin that God will not forgive? When does He forgive?
How can the sin of adultery be forgiven? – Is the sin forever?
Is the unforgivable sin denying that someone is doing the will of God?
Church Discipline and Sinning Christians
Forgive Seventy Times Seven
When Another Person Offends