Bible Question:
Am I still a Christian if I sin in the future?
Bible Answer: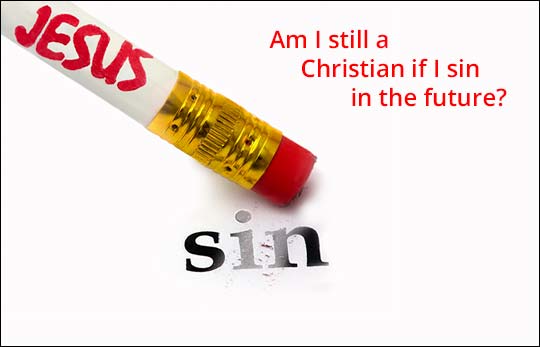 A question that many Christians struggle with is, "Am I forgiven if I continue sinning?" We could rephrase the question as "Am I forgiven if I continue actively sinning?" or "Am I forgiven if I am unrepentant?" The purpose of this Q&A is to answer all of these questions.
Christians Are Those Who Repent and Believe In Christ
The New Testament teaches that our God entered this world as a human in order to make provision for the forgiveness of our sins. His earthly name was Jesus Christ. John the Baptist announced the purpose of Christ's coming in John 1:29,
Behold, the Lamb of God who  takes away the sin of the world! John 1:29 (NASB)
During Jesus' ministry He warned a crowd that they would die spiritually if they did not believe in Him, that included the fact that He is God (John 8:24). We must believe in Christ or we will die spiritually. In Luke 5:32, Christ reveals that we will die in our sins if we do not repent of our sins.
I have not come to call the righteous but sinners to repentance. Luke 5:32  (NASB)
Just before Christ was betrayed, when He was with the disciples in the Upper Room, Christ instituted the Lord's Supper. When He offered the cup, which was symbolic of His coming death, He said this to the disciples,
. . . for this is My blood of the covenant, which is poured out for many for forgiveness of sins. Matthew 26:28 (NASB)
Then just before Christ ascended back to heaven, He gave this command to the disciples,
 Thus it is written, that the Christ would suffer and rise again from the dead the third day, and that repentance for forgiveness of sins would be proclaimed  in His name to  all the nations, beginning from Jerusalem. Luke 24:46-47 (NASB)
These verses were statements from Christ that reveal people can only be forgiven by believing in Christ and no one else. 1 Corinthians 15:1-8 and Romans 10:9-12 reveal that we must believe Christ died for our sins in order to be forgiven our sins and go to heaven. The consistent message of the New Testament is that we must repent of our sins and believe that Christ is God, died for our sins and was resurrected in order to be forgiven. Learn more on the page Searching for God.
Which Sins Did God Forgive?
Now for the important question. Which sins did God forgive when a person became a Christian? Romans 8:1 answers the question.
Therefore, there is now no condemnation for those who are in Christ Jesus, because through Christ Jesus the law of the Spirit of life set me free from the law of sin and death. Romans 8:1-2 (NASB)
The passage says that there is no condemnation for Christians. The Greek word for condemnation is katakrima. The word means "to judge someone as definitely guilty and thus subject to punishment."[1] That means Christians will never be in danger of going to hell or the Lake of Fire due to some sin that they will commit.
1 John 2:12 also agrees.
 I write to you, dear children, because your sins have been forgiven on account of his name. 1 John 2:12 (NASB)
The apostle John is writing to Christians when he says, "your sins have been forgiven." The Greek word for "have been forgiven" is aphiemi. It means "to forgive," "to send away" or "to leave." That is what God does with our sins. He "sends" them away.  This Greek verb is in the perfect tense. That means the forgiveness given to Christians occurred in the past and has ongoing effect. It continues into the future. This means that once a Christian is forgiven, the forgiveness covers all of our sins.
Consider Hebrews 10:14 which clearly states that Christians are perfected for all time.
For by one offering He has perfected for all time those who are  sanctified.  Hebrews 10:14 (NASB)
This verse says that Christians are perfected for all time. This does not mean they are actually perfect. Romans 5:1 says that Christians are justified by faith. That is, Christians are judicially declared or considered to be righteous or perfect because they believe in Christ. As a result, God the Father declares us to be perfect. In Matthew 5:48 Jesus said that unless we are perfect as the Father we will not enter heaven. We have discovered that when a Christian's sins are forgiven, God forgives all his or her sins: past, present and future. They are perfected for all time.
People Who Continuously Sin and Do Not Repent
1 John 1:6-7 describes the person who claims to be a Christian but is constantly sinning and does not care.
If we say that we have fellowship with Him and yet walk in the darkness, we  lie and  do not practice the truth; but if we walk in the Light as  He Himself is in the Light, we have fellowship with one another, and  the blood of Jesus His Son cleanses us from all sin. 1 John 1:6-7 (NASB)
This passage says that the person who claims to be a Christian but is habitually sinning and is unrepentant is a liar. That is, they are not Christians. But one who seeks to walk in the Light, that is, like Christ has their sins continuously forgiven. This means that a person who sins and is not repentant is not a Christian. That is also the message of Christ in Matthew 7:21-23.
Not everyone who says to Me, "Lord, Lord," will enter the kingdom of heaven, but he who does the will of My Father who is in heaven will enter. Many will say to Me on that day, "Lord, Lord, did we not prophesy in Your name, and in Your name cast out demons, and in Your name perform many miracles?" And then I will declare to them, "I never knew you; DEPART FROM ME, YOU WHO PRACTICE LAWLESSNESS." Matthew 7:21-23 (NASB)
People Who Claim to Be Sinless
1 John 1:8 describes a person who claims they are a Christian and are not sinning. This verse states,
If we say that we have no sin, we are deceiving ourselves and the truth is not in us. 1 John 1:8 (NASB)
The Greek phrase for "have no sin" is echo ou hamarita. The verb "have" is a present tense in the Greek. The phrase refers to not actively continuing to sin. That is, the person says they are not continuing to sin now since he or she became a Christian. This translation is supported by the word "deceiving," which is also in a present tense in the Greek. That is the person is actively continuing to deceive themselves by claiming they do not sin now that they are a Christian. But that is a lie. That is also the message of 1 John 1:10.
Christians Still Sin But They Also Repent
1 John 1:9 describes a Christian. He or she sins but they are the ones who when they sin are confessing their sins. 1 John 1:10 states that anyone who claims to be sinless is a liar. 1 John 2:1-2 tells us that Christ defends Christians before the Father. He protects Christians from all and every accusation of sin.
Now lets put verse 1 John 1:9 and 1 John 2:1-2 together. True Christians still sin.  True Christians will continue to confess their sins. This confession restores their relationship with God the Father who has already forgiven their sins. 1 John 2:1-2 reveals that even though Christians sin, Christ is our advocate or defender against all accusations that he or she is guilty of sin. When a Christian sins, they grieve and quench the Holy Spirit (Ephesians 4:30; 1 Thessalonians 5:19. That is, the relationship is damaged, yet, there is no fear of going to eternal condemnation (Romans 8:10; Hebrews 10:14). The relationship with God is repaired by confession.
Scripture is consistent. Christians are completely forgiven at one moment in time but for all time. Yet, positionally we still sin (Romans 7:14-24). Our ongoing confession of sin, when we sin, restores our relationship with God. Yet, Christians will never be judged guilty of sin again.
Conclusion:
The way to understand the teaching of the Holy Spirit is that every Christian is positionally forgiven, even though they continue to sin at times in practice. A good illustration of our position in Christ versus our own practice is the pitcher on a baseball team. His position on the team is as the pitcher, but he may not be a good pitcher. That is, his practice may not match his position as a good pitcher. Throughout Paul's epistles he calls Christians the "saints" (Romans 1:7; 1 Corinthians 1:1-2;  2 Corinthians 1:1; Ephesians 1:1; Philippians 1:1; Colossians 1:1). The word "saints" means "holy ones" in the Greek. That is, Paul called Christians holy ones. He referred to their position in Christ, but Christians are not actually perfect in practice. Christians are positionally perfect, even though they are not in practice.

Even though a Christian is not sinless and never will be in this life, one evidence of a true Christian is that they hate their sins (Romans 7:24), struggle against sin (Romans 7:15-20), repent of their sins (1 John 1:9) and are sinning less and less. A Christian will never be sinless but they will sin less and less (Romans 8:13-15).
What will God do to a sinning Christian? A Roman Catholic priest once warned a Christian pastor against telling Christians that their sins were completely forgiven.  The priest was worried that they would sin if they were told the truth. What the priest missed was that God will not let a Christian continue to sin. God will either discipline the sinning Christian in this life until they stop sinning (Hebrews 12:4-13), or God will cause them to die (1 John 5:16-17).
Christians should rejoice. Psalms 103:12 says that God removes our sins as far as the East is from the West.
As far as the East is from the West,
So far has He removed our transgressions from us. Psalm 103:12 (NASB)

Though your sins are as scarlet,
They will be as white as snow;
Though they are red like crimson,
They will be like wool. Isaiah 1:18 (NASB)

You have cast all my sins behind Your back. Isaiah 38:17 (NASB)

I will forgive their iniquity, and their sin I will remember no more. Jeremiah 31:34 (NASB)

He will again have compassion on us;
He will tread our iniquities under foot.
Yes, You will cast all their sins
Into the depths of the sea. Micah 7:19 (NASB)
References:
1. Johannes P. Louw and Eugene Albert Nida, Greek-English Lexicon of the New Testament: Based on Semantic Domains (New York: United Bible Societies, 1996), 555.
Suggested Links:
Are a Christian's future sins already forgiven?
The Test – You and Your Sin, part 2 - sermon
Do I have to believe that Jesus is God to be saved?
Should a person be changed when they become a Christian?
Are You A Christian? – Two Answers to Help
Can a Christian stray from the faith and still be a Christian?
I am having doubts about my salvation.
Searching for God