Bible Question:
If we are a true born-again Christian, are we judged before the rapture or after? The Bible says we are all judged. When does the Bema Seat Judgment occur?
Bible Answer:
Bema Seat Judgment day is coming! Every person will be judged some day – even Christians. That is the message of Hebrews 9:27
And inasmuch as it is appointed for men to die once and after this comes judgment . . . Hebrews 9:27 (NASB)
Christians will be judged according to their works and so will non-Christians. Non-Christians will be judged at the Great White Judgment. Christians will be judged at the Bema Seat Judgment. But the purposes of these two judgments are different and what happens to each person varies.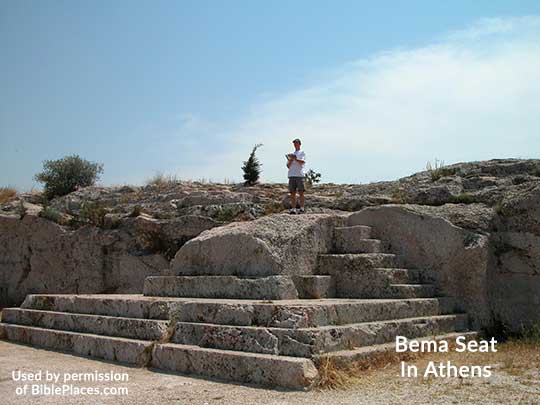 Judgment of Non-Christians — Great White Throne Judgment
Non-Christians will be judged by their works at the Great White Throne Judgment (see The Great White Throne Judgment, part 1 and Great White Throne Judgment, part 2 ). Many believe that God will look at their good and bad deeds and make a decision about who should go to heaven and who should go to hell. At first glance, that seems to fit with the following verse.
And I saw the dead, the great and the small, standing before the throne, and books were opened; and another book was opened, which is the book of life; and the dead were judged from the things which were written in the books, according to their deeds. And the sea gave up the dead which were in it, and death and Hades gave up the dead which were in them; and they were judged, every one of them according to their deeds. Revelation 20:12-13 (NASB)
But they miss two important verses that occur earlier in the chapter.
The rest of the dead did not come to life until the thousand years were completed. This is the first resurrection. Blessed and holy is the one who has a part in the first resurrection; over these the second death has no power, but they will be priests of God and of Christ and will reign with Him for a thousand years. Revelation 20:5-6 (NASB)
Christians are resurrected first immediately after the tribulation. Non-Christians are resurrected later after the 1,000 year kingdom, or millennium. Non-Christians will be judged by their works, but their judgment has already been decided because they did not believe in Jesus. They are going to hell. Non-Christians are going to hell because none of their works are acceptable to God.
. . . THERE IS NONE WHO DOES GOOD, THERE IS NOT EVEN ONE. Romans 3:12 (NASB)
This does not mean that non-Christians or Christians cannot do good deeds from an earthly viewpoint. It means there is nothing any of us can do to gain God's favor and earn the right to go to heaven. Men and women go to heaven because they believe that Jesus Christ died for their sins, returned to life and went back to heaven. They are depending on Jesus' forgiveness and not their own works to save them – nothing else.
Judgment of Christians — Bema Seat Judgment
Christians – those who are going to heaven because Jesus has forgiven their sins – will discover that God will judge their works too! But this judgment is to evaluate the "spiritual works" we did in this life. It is not for punishment. They will go to heaven because of Jesus' forgiveness.
For we must all appear before the judgment seat of Christ, that each one may be recompensed for his deeds in the body, according to what he has done, whether good or bad. 2 Corinthians 5:10 (NASB)

Now if any man builds upon the foundation with gold, silver, precious stones, wood, hay, straw, each man's work will become evident; for the day will show it, because it is to be revealed with fire; and the fire itself will test the quality of each man's work. If any man's work which he has built upon it remains, he shall receive a reward. If any man's work is burned up, he shall suffer loss; but he himself shall be saved, yet so as through fire. 1 Corinthians 3:12-15 (NASB)
According to these passages Christian will be given rewards or awards according to his/her faithful service to Jesus.
For I am already being poured out as a drink offering, and the time of my departure has come. I have fought the good fight, I have finished the course, I have kept the faith; in the future there is laid up for me the crown of righteousness, which the Lord, the righteous Judge, will award to me on that day; and not only to me, but also to all who have loved His appearing. 2 Timothy 4:6-8 (NASB)
In addition, 1 Corinthians 4:5 indicates that God will primarily be looking at the attitude of our hearts when we did works for Christ. In 1 Corinthians 9:16-18, Paul tells us that we will not be rewarded if we feel obligated to serve Christ. We will be rewarded only when we voluntarily serve Him. Some of us will find that few of our works will survive God's fire. Others will have more, but none of us will have anything to be proud of because God has done it all in our lives (Philippians 2:12-13).
Conclusion:
When will the Bema Seat occur? The answer is after the second coming of Christ and at the Goat and Sheep Judgment. For an explanation of the different views as to where in God's future timeline the Bema Seat Judgment occurs visit Bema Seat – When in the future will Christians be judged?
Suggested Links:
Where in the Bible does God give the judgment of man to his Son, Jesus Christ?
Do Not Judge!
If I were to be left behind on Judgment Day, can I still be saved?
Are the Old Testament saints resurrected at the rapture?
When and where does the Goat and Sheep judgment occur?
Bema Seat – When in the future will Christians be judged?
The Great White Throne Judgment, part 1
The Great White Throne Judgment, part 2