Bible Question:
What is the meaning of mercy in the Bible? Did Jesus show mercy?
Bible Answer:
The fifth beatitude in the Sermon on the Mount declares that the merciful will receive mercy.
Blessed are the merciful, for they shall receive mercy. Matthew 5:7 (NASB)
This does not mean that we will receive mercy only if we are merciful, but it does mean that you if your life is characterized by showing mercy,  you are a Christian and that is why you are blessed. Mercy is the fruit of the Spirit (Galatians 5:22-23) and it is Christians who are truly blessed (1 Peter 3:9-12). But what does the New Testament mean by the word "mercy?"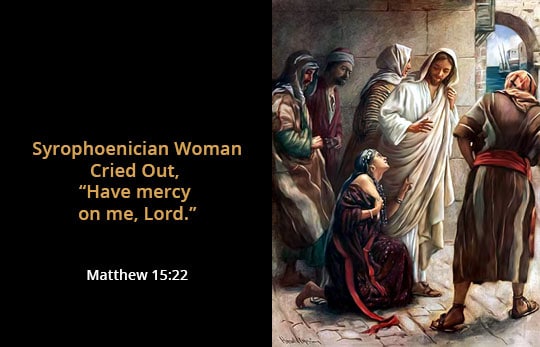 Definition of Mercy
The Greek word that is translated as "mercy" in Matthew 5:7 is eleoo. This verb occurs 28 times in the New Testament and means "to show kindness or concern for someone in serious need."[1] But the meaning is stronger than the words reveal. The Greek scholar Spicq states that mercy . . .
. . . refers to a "feeling," namely, the feeling of one who is moved by the sight of another's suffering and in a way shares in it . . .[2]
New Testament Examples of Mercy
Examples of mercy appears throughout the New Testament, but some of the clearest examples can be found in Jesus' ministry. The most common occurrences of the word occur when people beg to be healed. The first example is the Canaanite or Syrophoenician woman who begged for her daughter to be healed.
And a Canaanite woman from that region came out and began to cry out, saying, "Have mercy on me, Lord, Son of David; my daughter is cruelly demon-possessed." Matthew 15:22 (NASB)
Her daughter was demon-possessed and her mother could not heal her. She was helpless.
In Matthew 17:14-15, a man fell at Jesus' feet and begged for mercy for his demon possessed son. The father explained that Christ's disciples could not exorcize the demon. Now the man was desperate.
When they came to the crowd, a man came up to Jesus, falling on his knees before Him and saying, "Lord, have mercy on my son, for he is a lunatic and is very ill; for he often falls into the fire and often into the water. I brought him to Your disciples, and they could not cure him." And Jesus answered and said, "You unbelieving and perverted generation, how long shall I be with you? How long shall I put up with you? Bring him here to Me." And Jesus rebuked him, and the demon came out of him, and the boy was cured at once." Matthew 17:14-18 (NASB)
But Jesus could cast the demon out. The man pleaded for mercy to the only one who could heal his son.
In Matthew 20:29-34 two blind men begged for mercy. It is obvious that blind men and women cannot heal their blindness, but Christ could and did.
As they were leaving Jericho, a large crowd followed Him. And two blind men sitting by the road, hearing that Jesus was passing by, cried out, "Lord, have mercy on us, Son of David!" The crowd sternly told them to be quiet, but they cried out all the more, "Lord, Son of David, have mercy on us!" And Jesus stopped and called them, and said, "What do you want Me to do for you?" They said to Him, "Lord, we want our eyes to be opened." Moved with compassion, Jesus touched their eyes; and immediately they regained their sight and followed Him. Matthew 20:29-34 (NASB) (NASB)
Every example of mercy in the gospels occurs when someone begs Christ to heal them. They ask for mercy. These examples reveal that one who has mercy responds to those who cannot help themselves. Mercy responds to someone in serious need. Mercy may contain compassionate feelings, but these examples reveal that mercy responds to the helpless.
Ecclesiastes 7:29 indicates that God made man upright, but Adam and Eve sinned and all of their children. The reason we have sinned is that God allowed us to go our own way (Acts 14:16). Isaiah 53:6 says,
All of us like sheep have gone astray,
Each of us has turned to his own way;
But the LORD has caused the iniquity of us all
To fall on Him. Isaiah 53:6 (NASB)
Therefore, Romans 11:32 explains that God has declared that every human is completely disobedient (Jew and Gentle) and unable to save themselves. As a result, He can show all of us mercy. Clearly, we cannot help ourselves.
For God has shut up all in disobedience so that He may show mercy to all. Romans 11:32 (NASB)
Conclusion:
Mercy is more than a feeling of kindness and a desire to care for someone. Mercy demands more than feelings. Mercy is action that helps the helpless.
Mercy is compassion in action. – Author Unknown
References:
1. Louw, Johannes P., and Eugene Albert Nida. Greek-English lexicon of the New Testament: based on semantic domains 1996 : 88.76.
2. Spicq, Ceslas, and James D. Ernest. Theological lexicon of the New Testament 1994 : 471.
Suggested Links:
Mercy & Grace in Time of Need
Blessed Are The Merciful
The Merciful Receive Mercy
Finding Help In Time of Need
Can We Judge Others?