Bible Question:
What is the meaning of Ecclesiastes 9:5-6?
Bible Answer: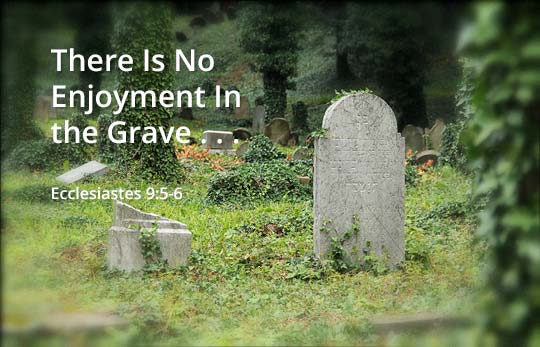 The author of the book of Ecclesiastes is King Solomon. In the first two verses of Ecclesiastes he tells us that life is empty. Life is like trying to catch the wind in your hands (Ecclesiastes 1:14). You can't do that! Life comes and goes. Life is empty, pointless and unfulfilling. The inheritance you leave behind will be squandered and selfishly consumed, in spite of one's hard work.  Throughout the book the message is that life is hallow. The only thing truly rewarding is eating and drinking. We make plans and our plans may not be achieved. If they are achieved, they will not last after we are gone. We encounter evil and oppression in this life and no one helps. 
When we come to Ecclesiastes 9:5-6, Solomon is making the point that when we die this life is over, and you cease to enjoy the old life on planet earth.
For the living know they will die; but the dead do not know anything, nor have they any longer a reward, for their memory is forgotten. Indeed their love, their hate and their zeal have already perished, and they will no longer have a share in all that is done under the sun. Ecclesiastes 9:5-6 (NASB)
Solomon is not focused on the spirit; instead he is speaking of the physical body. Eventually, those living on planet earth will forget about us. Just allow enough time to elapse and we will be forgotten. When we die we will not longer experience the rewards, or work, hobbies, or whatever gives one some sense of purpose. After we die we will not experience love, hate or a driving passion for anything in our dead physical body. We will not remember anything or share in the things that we once enjoyed. 
Conclusion:
The message of Ecclesiastes is that life is empty. We are born into the world and die. The message of these two verses is that we gain nothing in this life. The old statement that we cannot take it with us, misses the point that is even worse than that. Not only can we not take it with us, but we will be soon forgotten after we die. There is no life in the grave. Our dead bodies will not experience anything. Even the grave is disappointing.  Solomon is not speaking of our spirit. He speaks of our spirits later in Ecclesiastes 12:7. His focus here is on the mortal body. Therefore, life is not just over; it is empty and so is the grave! Not only is life disappointing but the grave is too! There is no enjoyment in the grave for our dead physical bodies for which we so diligently cared.
Suggested Links:
Are You Wasting Your Life?