Bible Question:
What do the terms "rod" and "staff" mean in the 23rd Psalm?
Bible Answer:
The 23rd Psalm was written by King David. This Psalm is part of a trilogy. Psalm 22 is called a Messianic Psalm. It speaks of Jesus suffering and death (Psalm 22:1). In the 23rd Psalm, Jesus is the Good Shepherd or as David says, "My shepherd" (Psalm 23:1) and in Psalm 24, Jesus is the "King of Glory" (Psalm 24:10). The 22nd Psalm reviews the past; the 23rd is the present and the 24th looks to the future. Now that is the order in which God ministers to us. Jesus died first so that we would have a Savior to redeem us from our sins. We discover that He is our Savior, Lord, and Good Shepherd, and then some day we will reign with our King of Glory. The 23rd Psalm is special to Christians because it paints a picture of our relationship with Him. If we are not Christians, He is not our shepherd.
The Lord is my shepherd,
I shall not want.
He makes me lie down in green pastures;
He leads me beside quiet waters.
He restores my soul;
He guides me in the paths of righteousness
For His name's sake.
Even though I walk through the valley of the shadow of death,
I fear no evil, for You are with me;
Your rod and Your staff, they comfort me.
You prepare a table before me in the presence of my enemies;
You have anointed my head with oil;
My cup overflows.
Surely goodness and lovingkindness will follow me all the days of my life,
And I will dwell in the house of the Lord forever.   Psalm 23 (NASB)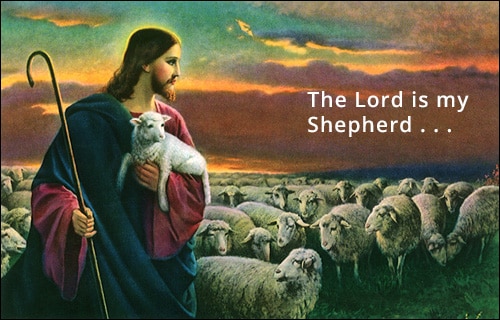 I Shall Not Want
As a boy I had memorized the 23rd Psalm, but I did not pay attention to the words. I did not understand the Psalm because I thought the first verse said that I shall not want Jesus. I thought the phrase "I shall not want" was talking about the shepherd. I did not realize it was talking about God's provision for me. The Psalm was talking about the Good Shepherd of the sheep meeting my daily needs. The Psalm is a reminder to us that He cares for us – His sheep.
In Matthew 6:26-30 Jesus, our Good Shepherd, reminds us that God cares about  us greatly. He spoke these words to a crowd.
"Look at the birds of the  air, that they do not sow, nor reap nor gather into barns, and yet your heavenly Father feeds them. Are you not worth much more than they? And who of you by being  worried can  add a single  hour to his  life? And why are you  worried about clothing? Observe how the lilies of the field grow; they do not toil nor do they spin, yet I say to you that not even  Solomon in all his glory clothed himself like one of these. But if God so clothes the  grass of the field, which is alive today and tomorrow is thrown into the furnace, will He not much more clothe you?  You of little faith! Matthew 6:26-30 (NASB)
The Psalm is a picture of a loving shepherd in the field of life caring for his sheep. We are greatly valued. Jesus is the Good Shepherd and we are His sheep.
Paths of Righteousness
The Psalm says that God cares and provides for us in the field of life (Matthew 6:25-34). He provides for our physical bodies by providing us with food – "pastures" – and water – "quiet waters." He also desires that we grow in holiness and God does that  by guiding us along the paths that sheep need to travel – "paths of righteousness" (Hebrews 4:14-16). Hebrews 12:
Thy Rod and Staff
When we as sheep stray from the path of righteousness into sin, He seeks us. What would a shepherd do to a lamb that kept leaving the path and walking away? Some object to a reported story that ancient shepherds would break a straying lamb's leg and then splint it so that the lamb would stay with the shepherd and learn to not run off.
Some individuals have protested this illustration claiming that such a shepherd is not a good shepherd. Those who object should remember what God did to David and Bathsheba. 2 Samuel 11:1-5 tells us that David committed adultery with Bathsheba and a child was born. In 2 Samuel 12:1 we discover that God sent the prophet Nathan to David. Nathan challenged David about his sin and told David the punishment he would experience because of his sin.
 And Nathan said to David, "The Lord also has taken away your sin; you shall not die. However, because by this deed you have  given occasion to the enemies of the Lord to blaspheme, the child also that is born to you shall surely die."  So Nathan went to his house.  Then the Lord struck the child that Uriah's widow bore to David, so that he was very sick. 2 Samuel 12:13-15 (NASB)
Then in verse 19 the Holy Spirit tells us the child died. That was David's punishment because of his sin and Bathsheba suffered too!
There are other examples of severe discipline to motivate the saints to live a holy life. For example, consider Moses' sister Miraim in Numbers 12. She and Aaron were being confrontational with Moses and God defends Moses. It becomes clear that she sins. As a result, God makes her leprous (Number 12:10). Another example of strong discipline occurs in Acts 5:1-5 when Ananias and Sapphira lie to the Holy Spirit and, consequently die. Or, consider the apostle Paul who was given a thorn in the flesh in order to prevent him from becoming proud (2 Corinthians 12:1-10). Paul had begged three times that the thorn be removed and God refused. Paul then rejoices,
Most gladly, therefore, I will rather  boast about my weaknesses, so that the power of Christ may dwell in me. Therefore I am well content with weaknesses, with insults, with distresses, with  persecutions, with  difficulties, for Christ's sake; for when I am weak, then I am strong. 2 Corinthians 12:9-10 (NASB)
May God injure us in order to motivate us to avoid sin? The answer is yes. He may! Today, we would call this discipline for sin (Hebrews 12:4-6). The picture is vivid. Leaving the shepherd's side is a serious mistake. Jesus wants us to follow closely to Him.
During times of struggle and danger, Jesus is also there to comfort us. While the rod and staff are used both for protection and discipline, it is important to notice that the goal is comfort. The meaning of the Hebrew word for "rod," sebet, and "staff," mishena, are very special. The Hebrew word sebet has the idea of a "stick." It originally referred to a part of a tree. In the Old Testament the "stick" was used to count sheep (Leviticus 27:32). It was also used to protect the sheep from other animals.
In the book of Proverbs, the stick is used for discipline (Proverbs 13:24). Sebet has a sense of authority. The Hebrew word mishena has the idea of "something to lean on," "trust," "support," or "staff." Together, the two words paint a picture of a strong, protective shepherd whom we can trust. One who not only cares for us but who will protect us. Sheep are stupid animals compared to other creatures. If we like sheep are following our shepherd and danger, trouble, and the threat of death come in the form of life's foxes and bears, He is there with His rod and staff. He protects us with His rod and we can trust the leading of His staff. Do you feel like crying out, "baa, baa, baa?" He is listening!
God's goal in using His rod and staff is comfort. The Hebrew word that is translated as comfort is nhm. The Hebrew word means "comfort or console" and has a strong emotional sense to it. That is, when a Christian understands that he or she is disciplined due to some sin, that should create great emotional comfort that God cares about them. When repentance follows God's blessing flows and His staff protects.
Our Rest
The Psalm transitions to a picture of living with the Shepherd. It is a picture of provision, care and eternal security. It is one of living with the Good Shepherd now and forever. Anointing the head with oil before a meal was an eastern custom. Oil served as a means of "freshening-up." The spiritual feast starts in this life. God ministers to us by "bathing" us with His Spirit, the fruit of the Spirit, and the gifts of the Holy Spirit. We receive the Shepherd's blessings in this life and continue living with Him forever after this earthly life.
Conclusion:
Charles Spurgeon adds,
While I am here I will be a child at home with my God; the whole world shall be His house to me; and when I ascend into the upper chamber I shall not change my company, nor even change the house; I shall only go to dwell in the upper story of the house of the Lord forever.
Suggested Links:
I Am Suffering!
Anxious?