Bible Question:
I am wondering if there is any biblical evidence in the book of prayers of any of the historical denominations, writings of the patristic age, the Old Testament or New Testament apocrypha books, or in the context of the prayer of Satan being rebuked by individuals? Are there any Christian denominations other than Pentecostals and Charismatics that use this kind of prayer?
Bible Answer:
Some Charismatics, Pentecostals, and others believe that a person can rebuke Satan. In fact, they would say we must. It is important to remember that not all Charismatics nor do all Pentecostals believe that we should rebuking Satan. A well known non-Charismatic believes that Christians should rebuke Satan because of the evil that Satan can bring into our life.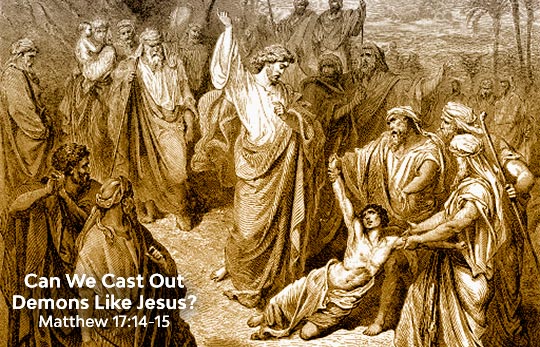 Satanic Oppression
Sickness is sometimes caused by Satan and his demons. On other occasions it is caused by a bacteria, or a virus for example. There were times when Jesus rebuked demons in order to heal someone and on other occasions He did not. On one occasion, Jesus met a woman who had been sick for eighteen years (Luke 13:10-13). Her illness had been caused by a demon. Jesus healed her by laying hands on her. On another occasion two men who were demon-possessed met Him (Matthew 8:28-34). Jesus healed these men by removing the demons with only a command, "Begone!" (Matthew 8:32). Jesus did this on other occasions, too, such as the time He rebuked demons (Mark 1:23-28). But there were other times when Jesus did not rebuke Satan or a demon in order to heal. One time Jesus used spit to heal a blind man (Mark 8:22-26). On another occasion, Jesus healed a man who could not hear by putting "His fingers into his ears, and after spitting, He touched his tongue with the saliva . . . " (Mark 7:31-37). The woman with "a hemorrhage for twelve years" is maybe one of the most unusual healings (Matthew 9:20-22). She simply touched Jesus' garment. Yes, Satan can cause sickness, but not all sickness is caused by Satan.
Rebuking Satan
Some would say that we have the authority to (1) call a demon by its name, and (2) then use that name to directly rebuke it and bind it ("I bind you, Satan!"). But Jude 8-9 and 2 Peter 2:10 tell us that Michael the archangel did not rebuke Satan. Those who encourage us to do this have ignored some very serious warnings . . .
. . .and especially those who indulge the flesh in its corrupt desires and despise authority. Daring, self-willed, they do not tremble when they revile angelic majesties . . . 2 Peter 2:10 (NASB)

Yet in the same manner these men, also by dreaming, defile the flesh, and reject authority, and revile angelic majesties. But Michael the archangel, when he disputed with the devil and argued about the body of Moses, did not dare pronounce against him a railing judgment, but said, "The Lord rebuke you." Jude 8-9 (NASB)
Historical records tell us that non-Christian groups such as the ascetic Jewish community at Qumran incorporated curses against Satan in their worship.[1] Acts 19:11-16 tells us that some exorcists tried to cast some demons unsuccessfully. But there is no evidence in the writings of the early church fathers or the apocrypha that encouraged Christians to rebuke Satan or a demon when someone is demon possessed or oppressed.
One early church father, Ignatius, in The Epistle of Ignatius to the Philippians discusses Satan at length but never encourages anyone to rebuke Satan. In 2 Corinthians, we find that the apostle Paul was sick because of a demon. Therefore, he asked God to remove the sickness (2 Corinthians 12:7-9). The Lord answered his prayer with a "No," and said, "My grace is sufficient for you, for power is perfected in weakness" (2 Corinthians 12:9). Notice that Paul did not rebuke Satan in an attempt to cast a demon out of himself, instead, he prayed.
Conclusion:
It is reported by some Christians that they have been able to cast demons out of sick people. But we must remember that Jesus' disciples were able to cast out demons because Jesus specifically gave them the power (Matthew 10:1; Mark 3:14-15; Luke 9:1). But Scripture never tells us that Christians today can cast out demons, even though some claim to be able to do that.
The Lord Jesus made it clear to His disciples that they did not have His power to cast out all demons, even after He gave them power to cast out demons. They were able to cast out some demons by rebuking them. But in Mark 9:25-29 the disciples asked why they could not cast a certain demon.
When Jesus saw that a crowd was rapidly gathering, He rebuked the unclean spirit, saying to it, "You deaf and mute spirit, I command you, come out of him and do not enter him again." After crying out and throwing him into terrible convulsions, it came out; and the boy became so much like a corpse that most of them said, "He is dead!" But Jesus took him by the hand and raised him; and he got up. When He came into the house, His disciples began questioning Him privately, "Why could we not drive it out?" And He said to them, "This kind cannot come out by anything but prayer." Mark 9:25-29 (NASB)
On this occasion, Jesus' disciples could not cast out the demon, but Jesus could with a single command. Jesus did not rebuke His disciples and say they had little faith. He did not say they were in sin. He only said they needed to pray. The message of Scripture is that Jesus' apostles did not have all of the power of Jesus. We do not have the right to rebuke Satan. That is the Lord's right.
References:
1. Attacking the Power of Darkness, The Emmaus Journal, Winter 1998.
Suggested Links:
Did Jesus fast before He cast out the evil spirit?
How can I escape demon possession according to the Bible?
Can the devil cause people to be sick and die?
Is it bad for Christians to be interested or involved in the occult?
Expel Some Only By Prayer
Legion of Demons
Can fallen angels look like humans? – What can demons look like?