Bible Question:
Who is in heaven today? Does the soul sleep in the grave? What does it mean to be absent from the body?
Bible Answer:
When a person stops living in this world, he or she goes either to heaven or to hell and then waits for judgment before God. The Bible reveals that the soul does not sleep. What follows explains why the soul or spirits of men and women do not sleep after death.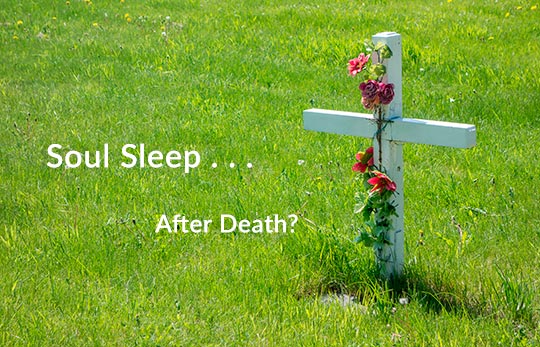 Soul Sleep Is Not Taught By The Bible
There are some passages in the Bible which seem to teach that the soul sleeps after death. For example in 1 Corinthians 11:28-30 the apostle told the believers in Corinth that anyone who took communion with unrepentant sin must examine himself. Those who do not will be weak, sick and some will sleep. Now Paul does not mean literal sleep but death.
But a man must examine himself, and in so doing he is to eat of the bread and drink of the cup. For he who eats and drinks, eats and drinks judgment to himself if he does not judge the body rightly. For this reason many among you are weak and sick, and a number sleep. 1 Corinthians 11:28-30 (NASB)
It is obvious that the seriousness of God's judgment increases from weakness to sickness. The next level of seriousness is not sleeping but death.
Another passage that seems to refer to soul sleep is 1 Corinthians 15:18-21.
Then those also who have fallen asleep in Christ have perished. If we have hoped in Christ in this life only, we are of all men most to be pitied. But now Christ has been raised from the dead, the first fruits of those who are asleep. For since by a man came death, by a man also came the resurrection of the dead. 1 Corinthians 15:18-21 (NASB)
Verse 18 directly connects "fallen asleep" with "have perished." Verse 20 also connects "the dead" with "those who are asleep." That is, "sleep" and "asleep" can refer to what most humans do at night when we lie down in a bed and remain there for eight hours until the morning. Other times "sleep" and "asleep" can also refer to "death."
Another example is 1 Thessalonians 4:13-16.
But we do not want you to be uninformed, brethren, about those who are asleep, that you may not grieve, as do the rest who have no hope. For if we believe that Jesus died and rose again, even so God will bring with Him those who have fallen asleep in Jesus. For this we say to you by the word of the Lord, that we who are alive and remain until the coming of the Lord, will not precede those who have fallen asleep. For the Lord Himself will descend from heaven with a shout, with the voice of the archangel and with the trumpet of God, and the dead in Christ will rise first.  1 Thessalonians 4:13-16 (NASB)
Verses 13 and 15 refer to believers being "asleep." Anyone reading these verses would think the Bible teaches that our spirits sleep after death. Those who come to that conclusion have missed verse 16 which connects "asleep" to "the dead."
In addition, we must be careful because Jesus also said that Lazarus had "fallen asleep." But he did not mean that Lazarus was sleeping in his bed.
This He said, and after that He said to them, "Our friend Lazarus has fallen asleep; but I go, that I may awaken him out of sleep." The disciples therefore said to Him, "Lord, if he has fallen asleep, he will recover." Now Jesus had spoken of his death, but they thought that He was speaking of literal sleep. Then Jesus therefore said to them plainly, "Lazarus is dead." John 11:11-14 (NASB)
Jesus meant that Lazarus was physically dead. He used both sleep and death for the same situation. It is important to know that both Jesus and the apostle Matthew sometimes used "sleep" to mean "dead" (Matthew 9:24; 27:52; Acts 13:36).
Our Spirits Have Consciousness After Death
Today there are many spirits in heaven and they are not sleeping in the ground waiting for the resurrection. Enoch is a great example of one that God took to heaven and who did not die. He left this earth and went to heaven.
By faith Enoch was taken up so that he should not see death; AND HE WAS NOT FOUND BECAUSE GOD TOOK HIM UP . . . Hebrews 11:5 (NASB)
Enoch was not sleeping but went to heaven. God also took the prophet Elijah to heaven (2 Kings 2:11). Elijah was not sleeping in a grave. In Matthew 17:1-4 we are told that Moses and Elijah were talking with Jesus. This means that Moses and Elijah were thinking and communicating after Moses' death and after Elijah was in heaven  Their spirits were not sleeping.
2 Corinthians 5:6-8 says that when a Christian dies he or she is instantly with the Lord in heaven. It is wonderful to know that when we die we go to be with God.
Therefore, being always of good courage, and knowing that while we are at home in the body we are absent from the Lord – for we walk by faith, not by sight – we are of good courage, I say, and prefer rather to be absent from the body and to be at home with the Lord. 2 Corinthians 5:6-8 (NASB)
To be absent from the body means that a Christian's "soul," actually our spirit, leaves our physical body and goes to heaven. The spirits of non-Christians also do not sleep either. They go to Hades or hell. That is the message of the parable of Lazarus and the rich man. In the parable, Jesus taught us that immediately after death Lazarus was in Abraham's bosom, another term for heaven, and the rich man was in Hades or hell. Also, in the parable Jesus reveals that both men could think, communicate and feel pain.
Conclusion:
The apostle Paul had a great passion in his heart to be with Jesus. He was not looking forward to sleeping in the grave for thousands of years, but to be with Jesus.
But I am hard-pressed from both directions, having the desire to depart and be with Christ, for that is very much better; yet to remain on in the flesh is more necessary for your sake. Philippians 1:23-24 (NASB)
He wanted to be with Jesus. It will be wonderful for Christians to be with Jesus some day – to be with our God and Savior.  Where will you spend eternity? Will I see you in heaven?
Suggested Links:
Do we soul sleep before we go to heaven?
Do the dead have knowledge before the resurrection? — What happens when you die?
Parable of the Rich Man and Lazarus
What is the meaning of the soul that sinneth it shall die? — Ezekiel 18:4
Does Christianity teach reincarnation of the soul?