Bible Question:
Did Jesus' flesh or spirit die?
Bible Answer:
Did Jesus' body and spirit die? On 14 Nisan A.D. 33, Jesus died outside the city walls of Jerusalem at a place called Golgotha at 3:00 pm (1500 hours). The land was covered with darkness even though a full moon would be visible in the night sky. The gospel of John tells us that at 3:00 pm Jesus said,
. . . "It is finished!" And He bowed His head and gave up His spirit. John 19:30 (NASB)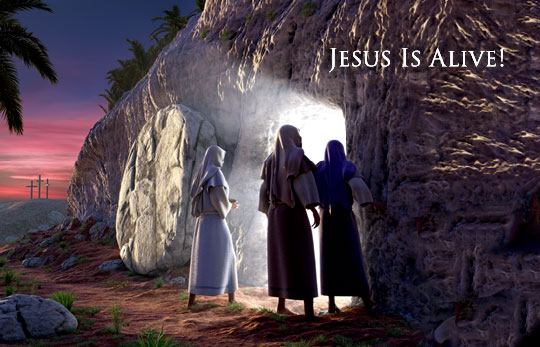 Did Jesus' body and spirit die? The answer is, Jesus' body, not His spirit, died and was buried later in the tomb of Joseph of Arimathea (John 19:38-42) .It was His body that was stabbed with a spear. It was His hands and feet that were nailed to the cross and bleeding. It was His back that was raw and bleeding because of the Roman whip. His head was also bleeding because of the thorns that had been shaped into a crown and pushed down onto His head. It was His body that died and not His spirit.
The scripture reveals that we have a body and a spirit. Even though our body dies, our spirit remains alive (Matthew 25:46). In fact, our spirits are eternal. Therefore, when Jesus gave up His spirit on the cross, His body died, but not His spirit. It was still alive.
The following two passages tell us what Jesus was doing while Jesus' body was dead between Friday afternoon and Sunday morning. He visited the fallen angels or demons who were in prison for disobedience. For more information visit "Seeking A Broken Heart."
Therefore it says, "WHEN HE ASCENDED ON HIGH, HE LED CAPTIVE A HOST OF CAPTIVES, AND HE GAVE GIFTS TO MEN." (Now this expression, "He ascended," what does it mean except that He also had descended into the lower parts of the earth? He who descended is Himself also He who ascended far above all the heavens, so that He might fill all things.) Ephesians 4:8-10 (NASB)

For Christ also died for sins once for all, the just for the unjust, so that He might bring us to God, having been put to death in the flesh, but made alive in the spirit; in which also He went and made proclamation to the spirits now in prison, who once were disobedient, when the patience of God kept waiting in the days of Noah, during the construction of the ark, in which a few, that is, eight persons, were brought safely through the water.  1 Peter 3:18-20 (NASB)
1 Peter 3:18 tells us that even though Christ's body was dead His spirit was "made alive." That is, He did not cease to exist.
Conclusion:
Only Jesus' fleshly body died – not His spirit. Jesus was still alive and is still alive. We say that we serve a risen Savior, because His body returned to life. It was proof to humanity that He is God (Romans 1:4). Everyone who has ever lived and who will live in the future will live for eternity. Those who reject Jesus Christ will live in eternal punishment and those who believe and submit to Him will live with God for eternity.
These will go away into eternal punishment, but the righteous into eternal life. Matthew 25:46 (NASB)
The following passages are very clear. They are written to Christians.
If Christ is in you, though the body is dead because of sin, yet the spirit is alive because of righteousness. Romans 8:10 (NASB)

For I, on my part, though absent in body but present in spirit . . . 1 Corinthians 5:3 (NASB)
Our spirits are the true selves. We live now in bodies of flesh that will die. After death we will receive immortal bodies that will live for eternity. The only question is, "Where will you spend your eternity?" If you are concerned, please visit "Searching For God."
Suggested Links:
Searching For God
Easter: Jesus Lives Again!
Do animals have spirits or souls?
Is Our Spirit At The Right Hand of God?
Was God dead for three days? – After The Crucifixion
Is there any significance to Jesus being dead for 3 days?
What does it mean that Jesus died for our sins?