Bible Question:
Who was Jezebel?
Bible Answer:
There are two Jezebels in the Bible. The first one is found in the Old Testament, and the second one is found in the New Testament.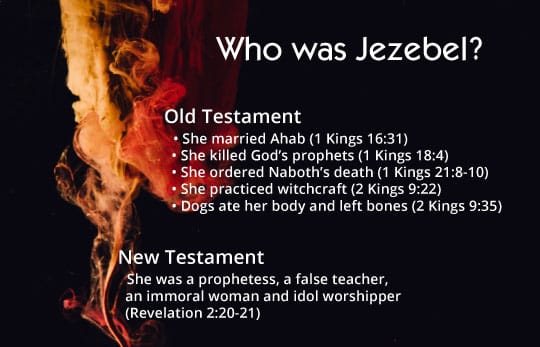 Jezebel – In The Old Testament
The first time the name Jezebel occurs in the Bible is when she is getting married to King Ahab in 1 Kings 16:31,
And Ahab the son of Omri did evil in the sight of the LORD more than all who were before him. And it came about, as though it had been a trivial thing for him to walk in the sins of Jeroboam the son of Nebat, that he married Jezebel the daughter of Ethbaal king of the Sidonians, and went to serve Baal and worshiped him. 1 Kings 16:30-31 (NASB)
Jezebel Killed The Prophets of God
She was an evil woman who killed many prophets of God while feeding and caring for the prophets of two gods called Baal and Asherah (1 Kings 18:1-19). In 1 Kings 18:20-46 Ahab, Elijah and 450 prophets of Baal gather to see, "Who is God?" Elijah puts it simply,
How long will you hesitate between two opinions? If the Lord is God, follow Him; but if Baal, follow him. 1 Kings 18:21 (NASB)
What followed was a one-sided contest. The followers of Baal prepared a sacrifice but Baal never sent fire to consume the sacrifice even though the 450 prophets called to Baal all day pleading, "O Baal, answer us." Then they even cut themselves with swords and lances and still Baal did not answer. Baal never responded. Finally, Elijah poured water on his sacrifice three times. After Elijah prayed, God sent fire from heaven to consume his sacrifice. Elijah killed the prophets of Baal (1 Kings 18:40). Therefore, Jezebel sought to kill Elijah (1 Kings 19:1-2).
Jezebel Ordered Naboth's Death
In 1 Kings 21:5-25 we are told that Jezebel had Naboth, the Jezreelite, killed by stoning so that her husband could own Naboth's vineyard.  1 Kings 21:8-10 captures the death letter she wrote.
So she wrote letters in Ahab's name and sealed them with his seal, and sent letters to the elders and to the nobles who were living with Naboth in his city. Now she wrote in the letters, saying, "Proclaim a fast and seat Naboth at the head of the people; 10 and seat two worthless men before him, and let them testify against him, saying, 'You cursed God and the king.' Then take him out and stone him to death." 1 Kings 21:8-10 (NASB)
And 1 kings 21:11-14 reveals that Naboth was stoned to death.
Who Was Jezebel?
Jezebel was a very wicked woman! She murdered people for personal gain. 2 Kings 9:22 characterizes Jezebel as more than an evil woman. She was one who abandoned the God of Israel and practiced witchcraft.
When Joram saw Jehu, he said, "Is it peace, Jehu?" And he answered, "What peace, so long as the harlotries of your mother Jezebel and her witchcrafts are so many?" 2 Kings 9:22 (NASB)
Consequently, God ordered her death (2 Kings 9:7-8).
Jezebel's Death
2 Kings 9:1-10 tells us that the prophet Elisha anointed Jehu king over Israel and prophesied that Jezebel would be eaten by dogs and never be buried. In 2 Kings 9:30, Jehu went to Jezreel. Jezebel heard that he had come to the city. She painted her eyes, covered her head and waited for him to enter the city gate. When Jehu arrived and entered the gate of the city, he saw her (2 Kings 9:31-32). Then Jehu ordered his servants to throw Jezebel down and so they killed Jezebel (2 Kings 9:33). Her blood was splattered on the wall and horses trampled her to death (2 Kings 9:33). When some men went to bury her, they found only her skull, feet and palm bones.
They went to bury her, but they found nothing more of her than the skull and the feet and the palms of her hands. 2 Kings 9:35 (NASB)
That is, the dogs ate her flesh, leaving only her skull and the palms of her hands. What a horrible way to die. Jezebel was a wicked, evil, adulterous woman who was fighting against God.
Jezebel – In The New Testament
The name Jezebel is used for a woman once again in Revelation 2:18-29. Here, Jezebel is described as a prophetess, a false teacher, an immoral woman and idol worshipper. She attended a church at Thyatira. She encouraged those who attended the church to engage in sexual sin and to worship other gods.
But I have this against you, that you tolerate the woman Jezebel, who calls herself a prophetess, and she teaches and leads My bond-servants astray so that they commit acts of immorality and eat things sacrificed to idols. And I gave her time to repent; and she does not want to repent of her immorality. Rev. 2:20-21 (NASB)
She was like the Jezebel in the Old Testament. They share many of the same characteristics. God warned this Jezebel that He would punish her if she did not stop teaching evil and repent. God not only warned Jezebel the teacher, He also warned her followers to stop sinning and to repent (Rev. 2:22-23).
And I will kill her children with pestilence, and all the churches will know that I am He who searches the minds and hearts; and I will give to each one of you according to your deeds. Rev. 2:23 (NASB)
Conclusion:
Mary, the mother of Jesus, was a sharp contrast to Jezebel. She was a woman who committed herself to God and followed Him. Notice Mary's attitude of willing submission to God when she agreed to become the mother of Jesus,
And Mary said, "Behold, the bondslave of the Lord; may it be done to me according to your word." Luke 1:38 (NASB)

And Mary said: "My soul exalts the Lord, and my spirit has rejoiced in God my Savior. For He has had regard for the humble state of His bondslave;" Luke 1:46-48 (NASB)
What a wonderful woman! What a contrast. This is the kind of woman God desires, one who is humble, God honoring and God glorifying.
Suggested Links:
False Teachers and Their Followers
Searching For God