Bible Question:
Who are the nine people mentioned in the Bible that were raised from the dead?
Bible Answer:
Three men are specifically mentioned who came back to life or returned to life in the Old Testament and six individuals were specifically named in the New Testament who were resurrected or returned to life. Here they are: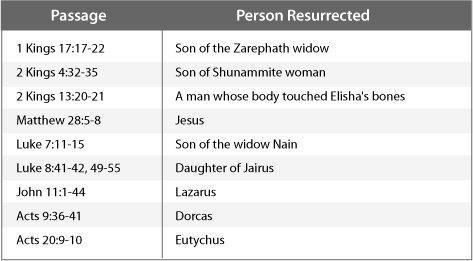 However, the New Testament reveals that there were others who came back to life in addition to the nine individuals specifically named in the pages of scripture. For example, Jesus tells John the Baptist's disciples to go to John and report the following,
And He answered and said to them, "Go and report to John what you have seen and heard: the BLIND RECEIVE SIGHT, the lame walk, the lepers are cleansed, and the deaf hear, the dead are raised up, the POOR HAVE THE GOSPEL PREACHED TO THEM. Luke 7:22 (NAS95S)
This implies that Jesus resurrected many individuals whose names are not recorded in scripture.
Conclusion:
Praise God! I am glad I belong to a powerful God like this that cares for me.
Suggested Links:
Searching For God