Bible Question:
Were Old Testament saints forgiven on the basis of Christ's future sacrifice?
Bible Answer:
Then one of the seraphim flew to me with a burning coal in his hand, which he had taken from the altar with tongs. He touched my mouth with it and said, "Behold, this has touched your lips; and your iniquity is taken away and your sin is forgiven."  Isaiah 6:6-7 (NASB)
In this passage we are told that an angelic being, called a seraphim, touched the lips of the prophet Isaiah with a burning coal. At the same time the angel announced that the sins of Isaiah were forgiven. A casual reading would seem to suggest that the prophet suffered some form of penance when his lips were touched with a burning coal and as a result his sins were forgiven. That is, since he suffered he was forgiven.
Salvation In the Old & New Testaments 
Is By Faith
But the basis for salvation in the Old Testament is not any different than that for salvation in the New Testament. The basis for salvation is the same in the Old and New Testaments. For example, in Romans 4:1-5 we read,
What then shall we say that Abraham, our forefather according to the flesh, has found? For if Abraham was justified by works, he has something to boast about, but not before God. For what does the Scripture say? " Abraham believed God, and it was credited to him as righteousness." Now to the one who  works, his wage is not credited as a favor, but as what is due. But to the one who does not work, but believes in Him who justifies the ungodly, his faith is credited as righteousness,

Romans 4:1-5 (NASB)
Notice that Abraham was not justified by works but by faith. Justified means to be declared righteous. It is a judicial act whereby God declares a person righteous. This is a clear statement that even in the Old Testament a man or woman was declared to be righteous or forgiven of their sins by faith and faith alone.
Salvation is also by faith and faith alone in the New Testament. That is the message of Ephesians 2:8-9.
For  by grace you have been saved  through faith; and that not of yourselves, it is the gift of God; not as a result of works, so that no one may boast. Ephesians 2:8-9 (NASB)
Salvation In Old & New Testaments 
Is Through Christ
When we say that salvation is by faith, we must ask faith in whom? A simple example is the prophet Isaiah. We have already discovered that the seraphim told Isaiah his sins were forgiven. In John 14:36-40 Jesus reveals that Isaiah knew about Himself. He also reveals that the prophet knew the people of Jesus' time needed to believe in Him. Then in the next verse, we are told this.
These things Isaiah said because he saw His glory, and  he spoke of Him. John 12:41 (NASB)
That is, Isaiah saw Jesus from the distant past and believed in Jesus. That is, Isaiah had his sins forgiven. Therefore, when the seraphim declared that Isaiah's sins were forgiven, it was because Isaiah knew about Christ and believed. The same was true of Abraham.
Conclusion:
But how could the sins of Old Testament saints be forgiven when Christ had not yet died? The answer is given to us in Romans 3:24-25,
. . . being justified as a gift by His grace through the redemption which is in Christ Jesus; whom God displayed publicly as a propitiation in His blood through faith. This was to demonstrate His righteousness, because in the forbearance of God He passed over the sins previously committed . . , Romans 3:24-25 (NASB)
In this very brief explanation, the Holy Spirit tells us that people are justified as a gift by God's grace through faith in Christ. That is, we are redeemed by Christ. This is possible because Christ satisfied the Father's wrath against sin (meaning of propitiation) when He died on the cross. Therefore, the Father is not angry with Christians.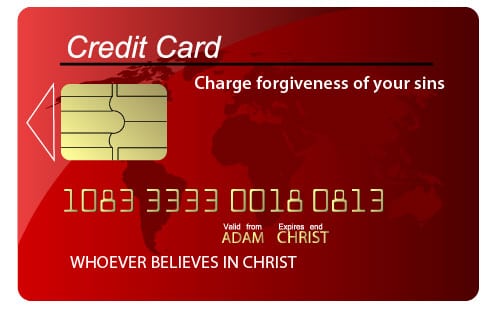 But how were the Old Testament saints forgiven? The answer is they also were forgiven by faith in Christ, the coming suffering Messiah! Then we are told that in Old Testament times God "passed over" the sins previously committed when a saint believed in the coming suffering Messiah. The Greek word that is translated as "forbearance" has the sense of "patience" or "tolerance." Forbearance is a wonderful attribute of God. It means that He was not in a hurry but patiently allowed Old Testaments to believe in Christ even though Christ had not yet died for sins. Remember that salvation is always by faith. Then when Christ died those sins were finally forgiven. Lets imagine a credit card that can be used for the forgiveness of sins. When the Old Testament saints believed, the forgiveness of their sins, we could say, was charged on a credit card. A debt card would not have worked since Christ had not yet died for our sins. Then when Jesus died for our sins, the credit card debt was paid off and forgiveness was finally a reality. But from the time the saints believed until the time Christ died, the Father treated them as if their sins were forgiven.
Therefore, the answer to the question, "Were Old Testament saints forgiven on the basis of Christ's future sacrifice?" is "Yes!" They were forgiven because the Father, who is the One who forgives our sins (Matthew 5:12, 14) and knew Christ would die for their sins, patiently waited for Christ to die thus enabling their sins to eventually be forgiven. Wow, we have a patient and forgiving God. Praise God.
Suggested Links:
Is there any chance that Gentiles were saved before Christ?
Were people saved before the apostles?
Searching For God
The Righteousness of God – part 3