Bible Question:
I have a question regarding the historical Jesus. First, I have heard that there are not any secular references to Herod killing all the babies under the age of two. They say that if this had really happened, then this would have been included in the other writings about Herod's life. This has really been troubling me.
Bible Answer:
The King Herod that is mentioned in the book of Matthew (Matthew 2) was made king of Judea by the Romans in 37 B.C. He died in 1 B.C. (see Fables of Christmas). History is not very kind to Herod as it records many of his atrocities including the killing of babies. It is well established in secular writings that Herod murdered the old and young and did not even spare his wives. Herod murdered many people. He was a bloody man.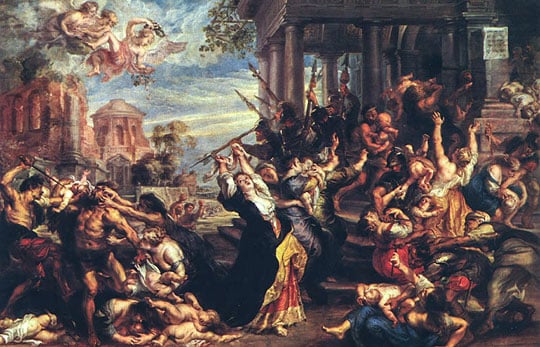 Matthew 2:16 also reports he was a murderous man.
Then when Herod saw that he had been tricked by the magi, he became very enraged, and sent and slew all the male children who were in Bethlehem and all its vicinity, from two years old and under, according to the time which he had determined from the magi. Matthew 2:16 (NASB)
Everett Ferguson is a reliable author who writes the following.
Though it may be true that Herod was an extremely able ruler, it is also true that he was intensely jealous of his position. He killed the two sons of Mariamne when his suspicions were aroused that they might become the rallying point for Jewish patriotism. Mariamne herself was killed when his mind was poisoned against her by his sister. . . A man who killed a large part of his own family and arrested large numbers of the most prominent citizens with orders for their execution when he died so there would be mourning at his death (Josephus. Antiquities of the Jews. 17.6.5) . . . would not have caused much of a stir by liquidating a score of children in an obscure village. Knowing of Herod's conduct and the Jewish scruples about pork, the emperor Augustus was reported to have said that he would rather be Herod's very pig than Herod's son. [1]
The Jewish historian Flavius Josephus describes King Herod the Great as a very evil man.
[Herod] commanded that all the principal men of the entire Jewish nation wheresoever they lived, should be called to him. Accordingly, there were a great number that came, because the whole nation was called, and all men heard of this call, and death was the penalty of such as should despise the epistles that were sent to call them. And now the king was in a wild rage against them all, the innocent as well as those that had afforded him ground for accusations; and when they were come, he ordered them all to be shut up in the hippodrome, and sent for his sister Salome, and her husband Alexas, and spoke thus to them: — "I shall die in a little time, so great are my pains; which death ought to be cheerfully borne, and to be welcomed by all men; but what principally troubles me is this, that I shall die without being lamented, and without such mourning as men usually expect at a king's death." For that he was not unacquainted with the temper of the Jews, that his death would be a thing very desirable, and exceedingly acceptable to them; because during his lifetime they were ready to revolt from him, and to abuse the donations he had dedicated to God: that it therefore was their business to resolve to afford him some alleviation of his great sorrows on this occasion; for that, if they do not refuse him their consent in what he desires, he shall have a great mourning at his funeral, and such as never any king had before him; for then the whole nation would mourn from their very soul, which otherwise would be done in sport and mockery only. He desired therefore that as soon as they see he hath given up the ghost, they shall place soldiers round the hippodrome, while they do not know that he is dead; and that they shall not declare his death to the multitude till this is done, but that they shall give orders to have those that are in custody shot with their darts; and that this slaughter of them all will cause that he shall not miss to rejoice on a double account; that as he is dying, they will make him secure that his will shall be executed in what he charges them to do; and that he shall have the honor of a memorable mourning at his funeral. [2]
These quotes help us understand that King Herod the Great was wicked. So we should not be surprised that a non-Christian wrote the following about Herod's massacre of children under the age of two that is mentioned in Matthew 2:16. The non-Christian writer is Macrobius (A.D. 395-423).
On hearing that the son of Herod, king of the Jews, had been slain when Herod ordered that all boys in Syria under the age of two to be killed, Augustus said, "It's better to be Herod's pig, than his son" (dicta 56 Malc.)[3]
Conclusion:
We can thank God that there is a secular reference to Herod's massacre of the children under the age of two. History does not record every event found in the Bible. In truth, we do not need secular history to validate the Bible. We often forget that the Bible is accurate history. But many people do not want to accept the Bible as history because they would then need to submit to its authority. It is the Word of God.
References:
1. Ferguson, Everett. Backgrounds of Early Christianity. Eerdmans Publishing. 1993. p. 390.
2. Josephus. Antiquities of the Jews. 17.6.5.
3. Ambrosius Theodosius Macrobius, Saturnalia, Book 2, section 4:11. p. 349.
Suggested Links:
What was the purpse of the children dying at the time of Christ's birth?
Fables of Christmas
Children Murdered
When did King Herod the Great reign and die?