Bible Question:
How can I know that I will go to heaven when I die?
Bible Answer:
This is a question almost every believer asks himself or herself, "Am I really a Christian?" Usually this happens when a believer feels guilt resulting from some sin or because he or she is not sure what the Bible teaches about salvation. What follows is a series of questions to help you know if you are have escaped hell and are going to heaven.
Look For Evidences You Are A Believer
How can you know that you are going to heaven? The answer is found in the book of 1 John. 1 John 5:13 gives us the purpose of the book.
These things I have written to you who believe in the name of the Son of God, in order that you may know that you have eternal life. (NASB) 1 John 5:13
The Greek word for "know" is oida. It is in a Greek perfect tense which means that we can know and continue to know. Here are the signs to look for to determine if you are are going to heaven.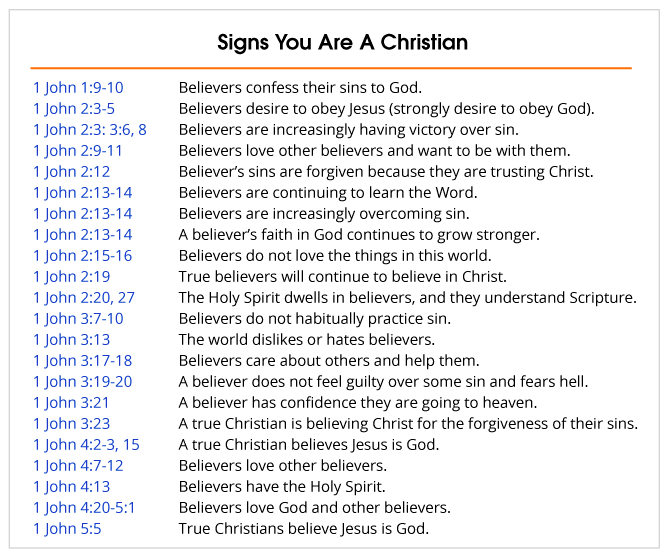 When we read 1 John we must remember that the pattern of a person's life reveals who the person really is. You should not look for one or two events in your life or some distant experience. Nor should we be discouraged if you committed "some big sin" or rejoice because of one great deed of kindness. What you must look for is the pattern of your life from day-after-day. This  reveals the real you. That is the message of this verse,
Little children, let no one deceive you; the one who practices righteousness is righteous, just as He is righteous . . . 1 John 3:7 (NASB)
A man or a woman who practices righteousness is righteous. It is important to notice the person is not always righteous day-after-day. We have also listed some other marks of a Christian at the section Are You A Christian?
Still Not Sure You Are A Christian?
If you are still not sure that you are a Christian, then perhaps you have never believed in Christ for the forgiveness of your sins. True belief includes repentance and submission to Christ. True faith in Christ responds in humility by repenting and submitting to Christ.
The Bible teaches that Adam was created without sin, but he chose to sin. His sin changed our world and the entire creation (Romans 8:19-22). It transformed everyone into sinners (Romans 5:12, 14, 18).
Therefore, just as through one man sin entered into the world, and death through sin, and so death spread to all men, because all sinned . . . So then as through one transgression there resulted condemnation to all men, even so through one act of righteousness there resulted justification of life to all men. (NASB) Romans 5:12, 18
Consequently, every man and woman is born spiritually dead upon entering this life (Ephesians 2:1-2) and deserves to live in hell, also called the lake of fire, forever (Revelation 20:14-15).
For the wages of sin is death, but the free gift of God is eternal life in Christ Jesus our Lord. Romans 6:23 (NASB)
But you can escape this eternal torment by understanding that Christ died in your place and as a result did everything that was necessary to forgive your sins.
For as in Adam all die, so also in Christ all shall be made alive.  1 Corinthians 15:22 (NASB)
The Bible teaches that we are saved from hell and are promised life in heaven for eternity if we repent of our sins, and believe that Christ did everything that was necessary for our sins to be forgiven when He died on the cross and was resurrected. If you truly believe that, then you will humbly submit to Him. Here are two verses that reveal 1) Christ is your hope and 2) what you must do.
And there is salvation in no one else; for there is no other name under heaven that has been given among men, by which we must be saved. (NASB) Acts 4:12

For the sorrow that is according to the will of God produces a repentance without regret, leading to salvation, but the sorrow of the world produces death. 2 Corinthians 7:10 (NASB)

If you confess with your mouth Jesus as Lord, and believe in your heart that God raised Him from the dead, you will be saved; for with the heart a person believes, resulting in righteousness, and with the mouth he confesses, resulting in salvation. Romans 10:9-10 (NASB)
When a person believes in Christ they are given the righteousness of God and He declares us to be as righteous as Himself. This happens because of Christ's death on the cross.
Come now, and let us reason together," says the Lord, "Though your sins are as scarlet, They will be as white as snow; Though they are red like crimson, They will be like wool.  Isaiah 1:18 (NASB)
Conclusion:
How can we be sure we are a Christian? We can know that we are a Christian if we are actively trusting in Jesus and we see changes in our lives. When Jesus forgives our sins, He forgives all our past sins, present sins, and all our future sins. Otherwise, Jesus would need to die again and again.
By this will we have been sanctified through the offering of the body of Jesus Christ once for all. Hebrews 10:10 (NASB)
When we start trusting Jesus for the forgiveness our sins, we are completely forgiven forever! The Holy Spirit starts working in us to make us righteous in our day-to-day life. This will occur as we are filled with the Spirit moment-by-moment (Galatians 5:16-23; Ephesians 5:17-18).
Suggested Links:
Searching For God
Are You A Christian? – Two Answers to Help
What must a person do to go to heaven when they die?
Sin and Salvation
Is salvation by grace through faith alone?
Do I have to believe that Jesus is God to be saved?
I want to seek God; how do I seek God?
How To Be Filled With The Spirit