Bible Question:
Does John 3:16 promise assurance of salvation to every Christian?
Bible Answer:
John 3:16 contains two promises. Can you identify these promises?
For God so loved the world, that He gave His only begotten Son, that whoever believes in Him shall not perish, but have eternal life. John 3:16 (NASB)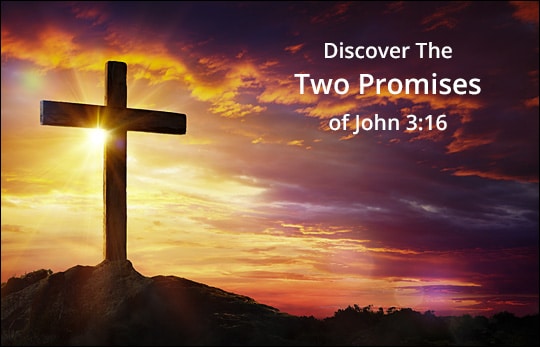 John 3:16 Declares God's Love For Us
In John 3:16 Christ teaches us that God loves the world. He loves everyone! God has demonstrated His love to every person. In Romans 1:19 God says that each person has a sense that He exists. In God's kindness He has helped us know that there is a God. That reveals that God loves us. He is a relational God. In Romans 2:15 we are told that God has put His moral law in our conscience. That is, we have a sense of right and wrong. Again, that reveals God loves us. Acts 14:17 says that God does good and provides rain and produce for everyone. Acts 17:25 states that He gives life and breath to all people. These reveal that God loves us.
The love of God is also revealed because He sent Christ to die for us (Romans 5:10). That is also the message of 1 John 4:9.
By this the love of God was manifested in us, that God has sent His only begotten Son into the world so that we might live through Him. 1 John 4:9 (NASB)
Titus 3:4-6 says that God revealed His love when Christ appeared and offers salvation to us by faith and not by works. We can rejoice that He decided salvation would be by faith and not works, because if we had to be perfect in order to go to heaven (Matthew 5:48), we would never get to heaven.
But when the kindness of God our Savior and His love for mankind appeared, He saved us, not on the basis of deeds which we have done in righteousness, but according to His mercy, by the washing of regeneration and renewing by the Holy Spirit, whom He poured out upon us richly through Jesus Christ our Savior . . . Titus 3:4-6 (NASB)
And John 3:16 echoes the same truth that faith alone in Jesus Christ is required in order to be saved.
First Promise In John 3:16
Now notice the first promise that is given to those who have faith in Christ – they shall not perish. The Greek word that is translated as "perish" is apollumi. It literally means "to destroy, to ruin or to put to an end." That is, those who are believing in Christ will never suffer eternal condemnation and go to hell.
Second Promise In John 3:16
The second promise in John 3:16 is that every Christian has eternal life. It is important to note that the Greek verb tense of "believes" is a present participle. This means that those who continue to actively believe in Christ will not perish. If someone claims to be a Christian but their ongoing pattern of life is sinful, then their pattern of life contradicts their claim. For more information, about visit the study, "Partakers – If You Hold Fast," "Warning About Antichrists" and "Godly Conscience – Barometer Of Assurance."   In these messages you will discover that a Christian never leaves the faith. 1 John 2:19 is the verse to remember.
They went out from us, but they were not really of us; for if they had been of us, they would have remained with us; but they went out, so that it would be shown that they all are not of us. 1 John 2:19 (NASB)
The message is that true Christians will continue being Christians. Notice in John 6:39, 40, 44, 47 and 54, Jesus said that every person who believes in Him will be raised up on the last day. In verse 40 the Greek verb tense of the word "believe" is a present participle. This refers to ongoing active faith. In contrast, those who claim to be a Christian but no longer believe in Christ have deceived themselves and their claim is not true.
Conclusion:
John 3:16 is a promise of eternal salvation to those who believe in Christ. There are two promises in this verse. The first is that those who are actively believing in Christ escape hell and the second is they have eternal life in heaven with God. Do you believe in Christ and desperately want Him to forgive your sins? Then visit Searching For God and read the five panels.
Suggested Links:
Godly Conscience – Barometer Of Assurance
Warning About Antichrists
Partakers – If You Hold Fast
Searching For God
Nicodemus Comes To Jesus By Night