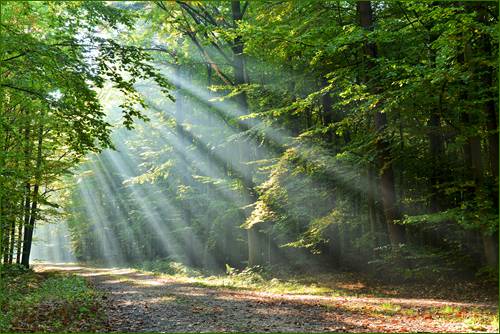 W
elcome to King's Daughters, a blog that extends an invitation for women to walk a ways along life's pathway with another daughter of the King of Kings. Our goal is to bring glory to God by helping women to stay focused on living life according to the wisdom contained in God's Word.
Our lives stretch out before us – an unknown pathway. Oh, we plan our goals and often our futures, but we cannot see around the bend. Often we don't even realize a bend in the road is coming up. Unexpected circumstances suddenly present a fork in the way and we stand helplessly at the fork wondering which way we should go. What should we do? Which way should we go? How should we respond to this situation or that one?
The above scenario is one often encountered by all – whether children of God or children of the devil. The big difference is that a loving Father God does not just launch His creation into life and leave them on his/her own. Instead, in great love He has provided provision, direction and guidance. He has given us the living Word of God that tells us 1) how we can live in relationship with our Creator and 2) how we can understand His ways or know what His will is for us in the myriad of life's circumstances.   I like to think of the Bible as the ultimate owner's manual –complete with all the details that an infinite God knew we would need to live life. For the person who has accepted Jesus Christ as Lord and Savior, that individual has all the direction and guidance he/she needs to live life. Now that is not an original thought with me. That comes right out of the Word of God. "seeing that His divine power has granted to us everything pertaining to life and godliness, through the true knowledge of Him who called us by His own glory and excellence." 2 Peter 1:3
Now, did you notice the word "everything" in 2 Peter 1:3? Many of the King of King's daughters flounder helplessly when confronted with difficult decisions or circumstances. Often times it is because a woman on her own immediately begins to fix whatever problem she is facing. Perhaps she runs for counsel to her best friend, favorite aunt, or her mom to find out what she should do. I do not suggest that we should not do what we can to deal with life's problems nor am I averse to godly counsel. But may I suggest that godly counsel should begin first of all on our knees, seeking to understand the truths or principles contained in scripture, and then applying those truths to the situation in which one finds oneself. Too many times we seek counsel with other humans, never stopping to so much as consult with God.
If we really believe the veracity of God's Word, then we will accept as truth that the Bible is an inexhaustible treasure house of divine wisdom, an invaluable gift from our Father in Heaven and worthy of our time and our loyalty in obedience to its teachings. If you agree, we invite you to return often to this blog as we continue our walk with the King down life's pathway exploring His ways and His wisdom for living life.
https://www.neverthirsty.org/wp-content/uploads/2021/12/NeverThirsty-2021.png
0
0
Rachel
https://www.neverthirsty.org/wp-content/uploads/2021/12/NeverThirsty-2021.png
Rachel
2016-01-20 11:24:56
2020-01-19 21:13:42
Welcome King's Daughters