Bible Question:
Why did God create us when He knew so few would be saved. The majority it seems will be in hell for eternity. Yet, it was still important for God to create us.
Bible Answer:
There are many questions that God has not answered for us. The Bible is not an encyclopedia on every issue in life. It contains those facts and truths that God has chosen to reveal. That is the message of Deuteronomy 29:29.
The secret things belong to the LORD our God, but the things revealed belong to us and to our sons forever, that we may observe all the words of this law. Deuteronomy 29:29 (NASB)
Yet, Scripture provides us with hints about the answers to some questions. Therefore, what follows is a hint at the answer to the question, "Why did God create us when He knew so few would be saved?"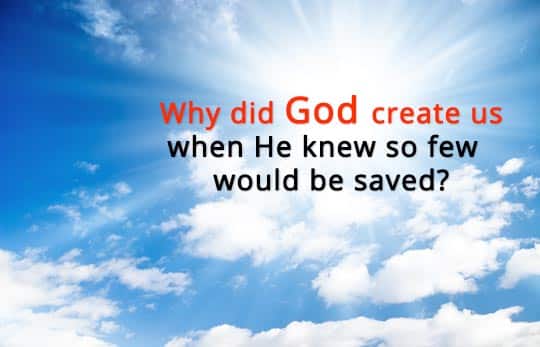 God Created Us
Both the Old and New Testaments tell us that God created us. Genesis 1 details the six twenty-four hour days of creation. God made the universe, the planets, the earth and everything that moves upon it, including mankind. Psalm 100:3 reminds us that God made us. We did not make ourselves.
Know that the LORD Himself is God;
It is He who has made us, and not we ourselves;
We are His people and the sheep of His pasture. Psalm 100:3 (NASB)
Isaiah 45:12 is a wonderful verse reminding us that God created the heavens and placed mankind upon the earth and everything else.
It is I who made the earth, and created man upon it.
I stretched out the heavens with My hands
And I ordained all their host. Isaiah 45:12 (NASB)
John 1:1 echoes the same truth in strong words. Everything that exists was made through Him and nothing that exists was created by something else or someone else.
All things came into being through Him, and apart from Him nothing came into being that has come into being. John 1:1 (NASB)
The Reason God Made Us
But why did God create us? Why did He do this? It is a mistake to quote Isaiah 43:7 and then claim that the verse proves God created us for His glory, because the psalm is about the nation of Israel.
Everyone who is called by My name,
And whom I have created for My glory,
Whom I have formed, even whom I have made."
Isaiah 43:7 (NASB)
Proverbs 16:4 could be confusing to some since it seems to imply that God made people wicked and that God had a reason for doing so.
The LORD has made everything for its own purpose,
Even the wicked for the day of evil. Proverbs 16:4 (NASB)
But James 1:13 tells us that God is not responsible for evil. He does not tempt us and is not tempted by sin Himself. Therefore, since Scripture does not contradict itself, we immediately know that this verse is not telling us God makes wicked men. A closer examination of the Hebrew word, manneh, that is translated as "purpose" reveals that a better translation would be 'answer." That is, God has an answer for everything. God has an answer for even the wicked. Derek Kidner writes,
The general meaning is that there are ultimately no loose ends in God's world: everything will be put to some use and matched with its proper [destiny].[1]
Now why did God make us? Romans 11:36 tells us that everything was made for God.
For from Him and through Him and to Him are all things. To Him be the glory forever. Amen. Romans 11:36 (NASB)
First Corinthians 8:6 reminds us that not only we exist because of God but we exist for God.
Yet for us there is but one God, the Father, from whom are all things and we exist for Him; and one Lord, Jesus Christ, by whom are all things, and we exist through Him. 1 Corinthians 8:6
It becomes obvious that God wanted a relationship with His creation when we read in Genesis 3:8-11 that He would visit Adam and Eve in the garden. We discover that same message in Ephesians 1:18 where we discover that Christians are God's inheritance. Ephesians 1:5 tells us that in love God predestined us to adoption into His family. You see God created us because He wants a relationship with His creation. He loves us! Ecclesiastes 7:29 reminds us that God made man upright; but we rebelled, resulting in sin.

Why did God create us when He knew so few would be saved? It appears that there was no other way to have a relationship with us. He knew some individuals would rebel. Few would be saved and most would go to hell (Matthew 7:13-14). The message is He is not responsible for our rebellion and rejection of Him. At the same time, He gives those who believe in Him a glorious eternity free of pain and unhappiness. Revelation 21:3 tells us that God wants to be with us.
And I heard a loud voice from the throne, saying, "Behold, the tabernacle of God is among men, and He will dwell among them, and they shall be His people, and God Himself will be among them . . . . Revelation 21:3 (NASB)
He seeks a relationship with us and we can have a relationship with Him. Imagine! God loves us and wants a real relationship with us!
Conclusion
Those who are not Christians can discover how to become a Christian by reading "Searching For God" or "What must I do to become a Christian?" If you have never asked God to forgive your sins and have never submitted yourself to Him, then in prayer ask Him to forgive you. You can have a relationship with God forever.
For those who are Christians, Psalm 95:6 is a passage to remember. Because of all that our Creator has done for us, we should worship and bow down to Him, for He is our God. He cares for us!
Come, let us worship and bow down,
Let us kneel before the LORD our Maker.
For He is our God,
And we are the people of His pasture and the sheep of His hand.  Psalm 95:6 (NASB)
References:
1. Derek Kidner. Proverbs. D. J. Wiseman. Tyndale Old Testament Commentaries. Inter-Varisty-Press. 1964. p. 118.
Suggested Links:
Searching for God
What must I do to become a Christian?
How do you receive Christ? What does John 1:12 mean?
Our Wonderful Resources In Christ, part 2 - audio
In Love He Predestined Us - audio