Bible Question:
Do Christians have to follow Christ?
Bible Answer:
Unfortunately, many Christians do not understand that God wants them to become like Jesus Christ, even though they may have been Christians for a long time. Even worse, some do not understand how to accomplish this goal in the Christian life. Would you like to discover the goal that God has for every Christian and how to arrive at that goal.
The Goal Is To Become Like Christ
Ephesians 4:11-13 explains why God has given the church apostles, prophets, evangelists and pastor-teachers.
And He gave some as apostles, and some as prophets, and some as evangelists, and some as pastors and teachers, for the equipping of the saints for the work of service, to the building up of the body of Christ; until we all attain to the unity of the faith, and of the knowledge of the Son of God, to a mature man, to the measure of the stature which belongs to the fullness of Christ. Ephesians 4:11-13 (NASB)
The message of Ephesians 4:11-13 is that God gave us spiritually gifted men for the purpose of equipping Christians so that they perform ministry to others, but the ultimate goal is for them to become like Jesus Christ. The Greek word for "attain" is katantao. It has the meaning of arriving at a goal. The goal has three parts. The first is to be united in the faith. That is, to attain unity in the body of Christ and agreement on the truths of the faith. The second is to know and understand Jesus Christ. The third goal of the Christian life is very personal. We are to become a mature Christian whose life exhibits the fullness of Christ, that is, the knowledge and character of Christ.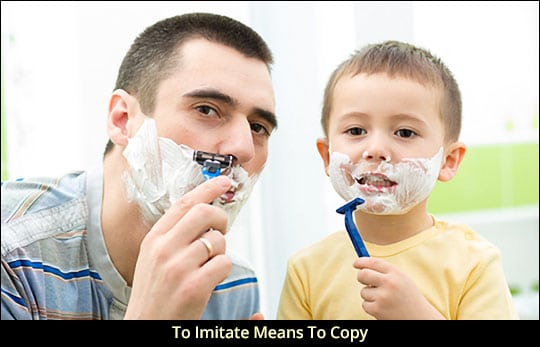 How To Become Like Christ
How does a Christian become more like Christ? Ephesians 4:11-13 teaches us that the first and most important ingredient to becoming like Christ is to study the Scriptures. The majority of Christians have been taught that the means or the method to becoming spiritually mature is to follow Christ and to know Christ. Unfortunately, following and knowing Christ is actually the end goal and not how one becomes more like Christ. The message of Ephesians 4:11-13 is God has given us teachers. This passage teaches us that apostles, prophets, evangelists and pastor-teachers of Scripture are the means of transforming a person into a follower of Christ and is the way believers learn to know Christ more. Many churches have just urged their people to follow a moral code and they consequently have an anemic knowledge of Scripture.
But notice that 1 Peter 2:1-2 teaches that a Christian grows in maturity by knowing the Scriptures.
. . . like newborn babies, long for the pure  milk of the word, so that by it you may grow in respect to salvation . . . 1 Peter 2:2 (NASB)
Hebrews 5:12-14 teaches that a Christian who cannot teach Scripture to others is spiritually immature.
For though by this time you ought to be teachers, you have need again for someone to teach you the elementary principles of the oracles of God, and you have come to need milk and not solid food. For everyone who partakes only of milk is not accustomed to the word of righteousness, for he is an  infant. But solid food is for  the mature, who because of practice have their senses  trained to  discern good and evil. Hebrews 5:12-14  (NASB)
The Holy Spirit is not telling Christians that they should have the spiritual gift of teaching but that they should have the knowledge required to teach others.
1 John 2:12-14 describes three stages of spiritual growth and in that passage the young man is the middle stage. Here we discover that a knowledge of the Word of God, victory over sin and a strong faith in God are the keys to spiritual growth. When these are in place, a Christian will follow Christ and know Christ more and more. In this passage we are told that the end-goal is to become a father of the faith. The father of the faith is one who knows "Him who has been from the beginning." Do you see that knowing God is the end goal? But how a Christian learns to know God is to know the Scriptures! Scripture is also the means to becoming like Christ. That is the message of 2 Timothy 3:16-17.
Sadly, some Christians are pursuing moral behavior with minimal Scriptural knowledge. They have zeal without knowledge, just like the Judaizers (Romans 10:2). The Judaizers had two problems. First, the Holy Spirit was not applying the Word of God to their hearts to bring about godly behavior (Hebrews 5:14). Second, notice that Paul reveals in Romans 10:2 their problem was not a pursuit of moral behavior. Their problem was that they did not know Scripture. They had two problems. They did not know the Scriptures and the Holy Spirit was not helping them understand Scripture. Knowledge of Scripture and being a Christian are the foundational principles for spiritual growth. Sadly, pastors and teachers are emphasizing moral conduct devoid of Scripture. Great emotional energy, motivational non-biblical stories and slick presentations have become the means to effect transformation–not in depth teaching of the word of God. The teaching of Scripture has become superficial.
The following studies explain how a Christian can determine if they are an immature or mature Christian:
Longing To Grow Spiritually – online message
Test: Are You Growing Spiritually? – online message
The second ingredient to becoming like Christ is to observe the behavior and conduct of more mature Christians and imitate them, if their behavior imitates Christ. Notice that in 1 Corinthians 4:16-17 the apostle Paul urges the Corinthians to imitate himself. Since they were not behaving like Paul, he sent Timothy to teach them the ways of Christ.
Therefore I exhort you, be imitators of me. For this reason I have sent to you Timothy, who is my beloved and faithful child in the Lord, and he will remind you of my ways which are in Christ, just as I teach everywhere in every church. 1 Corinthians 4:16-17 (NASB)
The books of 1 and 2 Corinthians reveal that these Christians were constantly in conflict, very immature, committing sexual sins, divorcing their spouses, taking one another to court, unhappy with their spiritual gifts and wanting the superior spiritual gifts. They also had error in their teaching about the resurrection. Sadly, today many would call errors in the doctrine of the resurrection a minor doctrinal issue. In summary, the Corinthians were very immature and so Paul urged them to imitate himself. The Greek word for imitate is mimetes. The word means "to copy or to follow." Paul was urging them to copy himself.
In 1 Corinthians 11:1 Paul repeated the command. This time he added "as I also am of Christ."
Be imitators of me, just as I also am of Christ. 1 Corinthians 11:1 (NASB)
That is, Paul copied Christ. The goal is to become like Christ. If the person is following Christ then they are a pattern to be followed. Therefore, it was safe to copy Paul as he copied Christ. He repeated the command to the Christians in Philippi in his letter to them in Philippians 3:17.
Brethren, join in following my example, and observe those who walk according to the pattern you have in us. Philippians 3:17 (NASB)
We find commands in other passages in the New Testament. For example, in Ephesians 5:1 we are urged to imitate God. In 1 Thessalonians 1:6 Christians were urged to imitate Paul again.
Who Should Christians Imitate Today?
But what are Christians supposed to do today since Paul is no longer alive? The answer is found in the book of Hebrews where Christians are urged to imitate a godly leader.
Remember those who led you, who spoke the word of God to you; and considering the result of their conduct, imitate their faith. Hebrews 13:7 (NASB)
Notice that there are three steps to determining who we are to imitate. The first step is chose someone who was a leader in your church. This may be someone who is a deacon, deaconess (if you church has deaconesses) or an elder (includes pastors). The assumption is that they have satisfied the high qualifications found in 1 Timothy 3:2-7; Titus 1:5-9 (for elders) and 1 Timothy 3:8-13 (for deacons and deaconesses).
The second step is to select someone who taught you the Word of God. Now that eliminates many leaders and there are fewer left. The third step is to observe their conduct. Is their conduct godly? If so, then select one with godly character and conduct and imitate their faith. Lord willing, their life will be a copy of the life of Christ. They will not be perfect but it should significantly greater than anyone else in your church.
Conclusion:
What is the goal of the Christian life? The goal is to know Christ and become like Christ. As we increasingly become like Christ we will become a father of the faith (1 John 2:12-14) and we give glory to God (1 Corinthians 10:31).
Suggested Links:
Growing The Saints, part 1 - message
Growing The Saints, part 2 - message
Growing The Saints, part 3 - message
Growing The Saints, part 4 - message
How Shall We Grow? - message