Bible Question:
I am curious as to the thorn in Paul's side. Did it ever go away? Christ said to him, "My grace is sufficient" after he prayed for deliverance from it. Was God telling him that we in a sense have inherited the powers and gifts of the first man Adam with the death of the perfect man Christ? Can we rebuke Satan in His grace and in Christ's name? If so, could Paul have removed the pain from his side?
Bible Answer:
Paul had a physical problem. We do not know if it was an illness or some other situation. Some believe that he was suffering from an eye problem because of his comments in Gal. 4:15 and Gal. 6:11, but he never tells us. We know only that he had asked God to take away this "thorn in the flesh" three times. Here are Paul's words.
And because of the surpassing greatness of the revelations, for this reason, to keep me from exalting myself, there was given me a thorn in the flesh, a messenger of Satan to buffet me – to keep me from exalting myself! Concerning this I entreated the Lord three times that it might depart from me. And He has said to me, "My grace is sufficient for you, for power is perfected in weakness." Most gladly, therefore, I will rather boast about my weaknesses, that the power of Christ may dwell in me. Therefore I am well content with weaknesses, with insults, with distresses, with persecutions, with difficulties, for Christ's sake; for when I am weak, then I am strong. (NASB) 2 Corinthians 12:7-10
Paul's Suffering
Paul apparently was struggling with pride and so God allowed him to suffer in order to develop humility. Pride is a sin that everyone has – some more than others. The "thorn in the flesh" was a constant reminder for Paul that God was working through him. God deserved the credit – not Paul. Paul had asked God three times to take away this 'thorn" and God answered his prayer with "NO!" God simply stated, "My grace is sufficient." "I am going to allow you to continue suffering." Paul's reply shows that he understood this. He chose to be quiet, stop praying about it, and be content with sufferings.
Suffering For A Purpose
We suffer for a number of reasons. Sometimes we suffer simply because we live in an imperfect world and "bad things happen." Suffering can be the result of sinful choices. Sometimes we suffer from tiny organisms that cause disease. God uses suffering to give Him glory and to move men and women to stop and understand that He exists.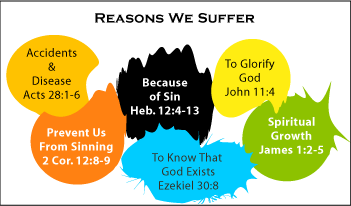 That is how God gets the attention of a lot of us. For some of us, God must allow us to suffer before we will come to Him. Then after we have come to Him, He allows us to suffer sometimes in order to stop us from sinning and to prevent us from sinning. Someone recently said that our holiness is not what is most important to God. That is not true. Just look at the many illustrations and personal examples in the Old Testament. The Christian life is about holiness and a love relationship with God. God loved Paul but not his sin of pride. Pride was a sin that he was struggling with. So God had to help him. How did Paul react? He accepted his suffering! It never stopped as far as we know.
Rebuking Satan
Paul was not able to remove the pain because God did not want that to happen. God would not have honored anything that Paul might have tried. Before we leave, we should add that God does not honor the current concept of rebuking Satan or the devil. It is a false teaching. Listen to what God says in Jude 9.
But Michael the archangel, when he disputed with the devil and argued about the body of Moses, did not dare pronounce against him a railing judgment, but said, "The Lord rebuke you." (NASB) Jude 9
We are not to rebuke Satan. We should pray and ask God to do so. Our power is in the armor of God.
Conclusion:
The only power that Adam passed on to us was the power of sin and it destroys. Sin destroys lives and hinders our relationship with God. That is why Jesus came and died for us. He came to give us a relationship with God – a holy relationship. Learn how you can have a relationship with him on the page Searching for God.